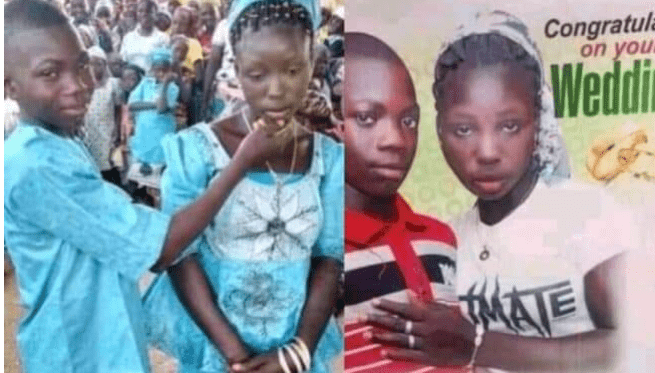 ARREST BOTH PARENTS" – NIGERIANS REACT TO THE MARRIAGE OF UNDERAGE BOY AND GIRL
ARREST BOTH PARENTS" – NIGERIANS REACT TO THE MARRIAGE OF UNDERAGE BOY AND GIRL
Nigerians got bittered after photos of an underage "couple" were shared online.
the groom who was identified as Julius allegedly got married to a girl named Anthonia. A Facebook user who lives in Kaduna state claimed the wedding was held in Jaba, Kaduna State.
A photo of the underaged couple on their wedding day was also shared online, alongside photos of the calendar shared as souvenirs.
Because of the age of the newly wedded couple, people are calling for the parents of the children to be arrested. Some reports claim the boy is just 11.
What do you have to say concerning this article should nigerians leave this kids to enjoy their marriage or what share your opinion with us via the comments section
Also Read  Pretty Nigerian Female Herbalist Whines Waist Sweetly Before Her Man To Serve Him Food
Happy maid rides her Oyinbo madam like a horse in a video to celebrate her America visa