Biography of Aboy Salina tested (Aye otta)
Biography of Aboy, biography of tallest , biography of chi boy, biography of odogwu
Biography Of Aboy Selina Tested, Aboy is a popular light weight entertainment actor who played one of the major roles in the movie Salina tested his actions and charisma in his movie's show, that he is a talented actor
1. Biography Of Aboy
Aye Otto popularly known as Aboy is a born Nigerian, He was born and brought up in Port Harcourt Nigeria, Aye otta is in his late 20th currently Aye Otto is not yet married, but rumor has it to say that he is dating dere his girlfriend in the movie Salina tested, Aboy started his acting career right from when he was a child he was later teamed up with other people who had same aspirations as his, and they form a little acting Group know as lightweight entertainment they started acting short inspiring, motivational and action skit not until 2020 when they released there first movie Salina tested. Salina tested is one of the most exciting movies that blow Aboy and other light weight entertainment actors, Salina tested is now a global success
Names Of People Who formed Light Weight Entertainment :
Aboy (Aye Otto) Founder
Chi boy
Sibi
Odogwu
Tallest
Smaller
Dere
Priest
Bellema
Wonder boy
Asa
Atanapak
Gost boy
Aboy Educational Background
Aye Otto the popular lightweight entertainment actor is a graduate who attended Captain Elechi Amadi Polytechnics phort Hacourt, After graduating from Captain Elechi Amadi Polytechnics he then put more energy into his acting talent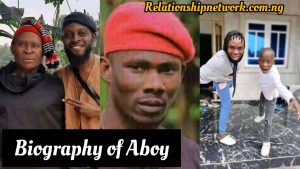 Aboy Career :
Aboy is a very proficient Nollywood actor aside from acting Aboy hasn't disclosed to the public does for a living, but we believe he is full time in the Nollywood business
List Of Movie Aboy Has Acted
Salina Tested :
Salina tested is an amazing Nollywood action movie produced by Light Weight Entertainment, the movie Salina Tested portraits how people survive in the ghetto it is a storyline about Aboy and chi boy who has been a close friend from childhood and grew up to become brothers in the movie Salina Tested they both grew up in the holy ground and later become thugs and protectors of holy ground. Salina Tested was filmed in port Harcourt and produced by manachi prise's production
Aboy acted like a thug and also the boyfriend of dere in Salina Tested
Jagaban :
Jagaban is also an interesting Nollywood action movie similar to Salina tested, Jagaba is a story of a boy who lost his mother, girlfriend, and an unborn child to thugs in the ghetto and later seeks vengeance Jagaba was filmed in port Harcourt featuring lightweight entertainment Jagaban was produced by holy ghost concept
Aboy acted like a thug and a senior cultist in the movie Jagaban
A brief biography of other Light Weight Entertainment Actors
SEE ALSO: 6 Things you should know about Fredrick Leonard
2. Biography Of Tallest :
Tallest also known as Text collect is a born indigene of Rivers State Nigeria his real name is Emmanuel he is a skit maker, actor and a stand-up comedian his stage name is MC prophet, aside acting he is also a comedian who has performed in different top shows in Nigeria
3. Biography of Chi boy :
Chi boy knows also known as Garman shepherd is an indigene of Abia state Nigeria his real name is famous Patrick. He is a graduate of Federal Poly Nekede, Owerri of Abia State, aside from acting chi boy is also a marketer and an entrepreneur
4. Biography of Odogwu :
Manuchim Praize popularly known as Odogwu is the writer, a music director, and a producer of the trending Nollywood movie Salina Tested. He is an indigene of River State Nigeria. He studied Computer Science and also attended Nigerian Films Academy in 2011 Aside from acting he is also a movie producer, director, and editor.
Join Our Entertainment group on Facebook