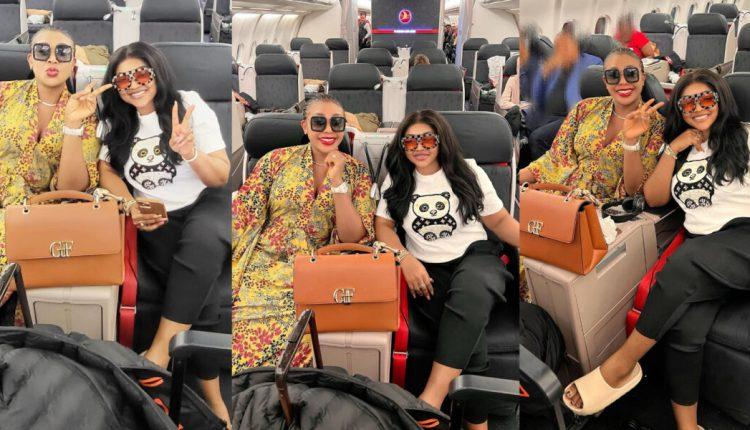 "Birds of the same feathers" netizens react as Mercy Aigbe and MC Oluomo's ex, Ehi links up
Nollywood actress,Mercy Aigbe Adeoti, has sparked outrage online as she links up with prominent interior designer Ehizogie Ogbebor.
On Instagram, the two uploaded pictures which beautifully documented their meeting as they boarded a flight back to Nigeria.
Mercy Aigbe expressed her happiness to have Ehi on board and revealed she returned to the country to cast her vote.
She wrote: "Eku ile oh!!! Just in time to vote for my choice in tomorrow's gubernatorial election!
So delighted to see my darling beautiful Benin Sis @ceosayavethinteriors_and_hotel".
The prominent interior designer, Ehi, was overjoyed to welcome Mercy Aigbe on board.
She posted pictures of their meeting along with an incredible comment that read:
"Was so nice to see my beautiful superstar sis on board…. fresh n so young….Back like we never left @realmercyaigbe".
Many people commented on Mercy Aigbe and Ehi's timeline to praise their beauty and radiance, while others asserted that the two are of the same feathers.
Moemi wrote, "birds of the same feather"
Sholape wrote the same thing in Yoruba, "Iru iro nborun".
Another Ojo Sandra iterated the same statement.
"Arrrhhhh no wonder birds of the same feather," Maurene wrote.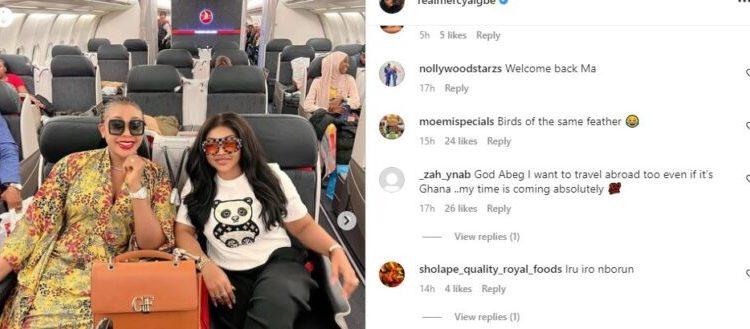 Read also : I started small small": Man tells touching story behind his new mansion.