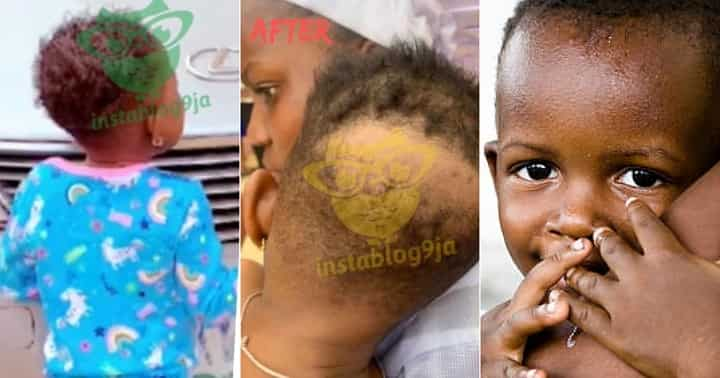 "Close Down the School": Mum Cries Out After Finding Out Her Daughter's Hair Was Shaved at School
"Close Down the School" were the angry words of a Nigerian Mum After Finding Out that Her Daughter's Hair Was Shaved at School without her prior notice.
Taking to her social media handles, the heartbroken Nigerian mum broke down in tears after finding out that a part of her daughter's hair was scraped at school as she calls for justice.
Narrating her ordeal, she further went on to add that her daughter's school refused to grant her access to watch the CCTV footage of the incident of her two-year-old daughter hair being shaved in
school.
In her words, "My two-year-old daughter is attending sunshine group of school. I took my child to school yesterday morning and nothing happened to her. Then I went to church"
"I went to school to pick her and realised someone has scraped my baby's hair at the back and incision two lines at the spot"
"Please help me they are telling me that their CCTV didn't work yesterday. The school authorities are not doing anything about finding the person who did it"
"Oya provide the hair that you scrapped, they couldn't provide. Who put an incision in her hair? No explanation"
"Let's see the CCTV. It's not working. These people want to see crazy." She demanded.
"You Won't See Me Again": Primary School Girl Writes Painful Goodbye Letter to Her Dad for Abandoning Her
"How Can a 12-Year-Old Die Like That?" Mum Calls Out Chrisland School as Daughter Dies at Inter-House Sports