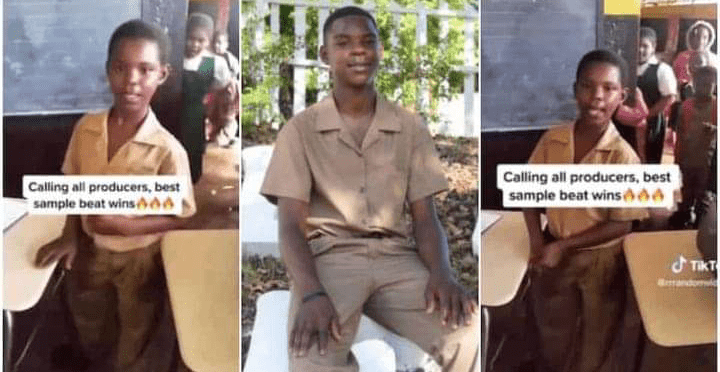 Finally, Grace located him: Young boy who sang with sweet voice on "beautiful day" video clip get record deal 
Grace
A young boy by name Rushawn, whose video went viral some weeks ago showing him singing Jermaine Edwards' Beautiful Day song as a kid has spoken in an open interview with @kingston11antics.
The young boy who is now much older stated that he had always wanted to be a singer, but he never thought his fame would come in such a way,
According to the interview, his clip which went viral showed him singing in a classroom in his school uniform. was filmed many years ago,
Rushawn revealed that Jermaine the owner of the song has already reached out to him and they will work together to do a remix of the track. According to him, he stated that he is so excited about what the future holds for him.
The interview video is currently going viral on Tiktok and as at the time of writing this article, the video has gathered over 1,700 comments and more than 97,000 likes.
See social Tiktok user's reaction to his interview video 
 Dessy said: "Humbled and respectful man. Much love."
user5348511568424 said: "Everytime I watch this young soul, I become emotional. God bless Rushawn."
Teacher Isonu asked: "The boy has grown just few month ago?"
Afrikan Iegend said: "Big love from Kenya, the remix is my phone incoming call tone….I listen to the song every morning."
joanwatson692 said: "Heavenly father cover him with your precious blood Amen."
Watch video 
Also read 
• Congratulations Mummy of Lagos is pregnant, Netizens reacted as BobRisky step out in new looks at a Christmas event
• God is wonderful Lady welcomes quintuplets after 12-years of waiting and childlessness.
• Nothing is impossible with God Lady who was a cleaner becomes a company owner.