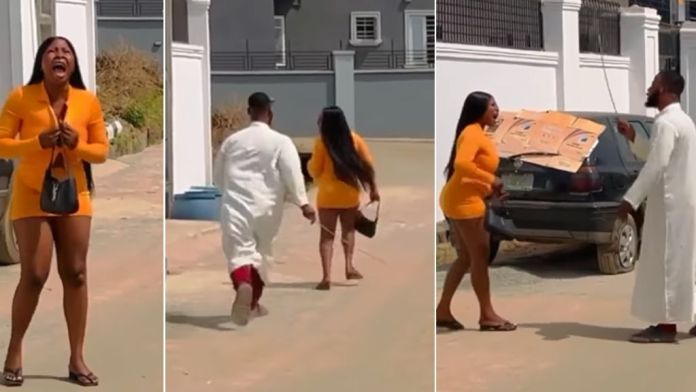 Go home and dress properly, video trends as young man beats lady on the street over indecent dressing (Watch)
A video of a Nigerian man be@ting a young lady on the street over her indecent dressing has been circulating online.
In the video, the young lady was walking on her own when the man on a motorcycle stopped and was confronted aggressively, the man was all dressed in a jalabia.
And he tackled the pretty lady for indecent dressing and ordered her to go back home to change her cloth.
However, the lady refused and the man got angried and started fl0gging her with a cane hidden on the motorcycle. The video of the man beating the young lady got many talking online as they thronged to comment section.
See social media user's reaction
daisycitycake_snacks said, "Nothing is funny here ,he was abusing the lady and harassing her".
sylvanuschidiebere5 said, "I know some blind fools and useless generations will support this kind of indecent dressing. This girl is totally naked without pant, talkless of bra and this guy called her ashawo then she had the guts to slap him, is she maaadddd?!!. Wait oo….she can't answer ashawo but she dresses like ashawo….what is she teaching the younger one's that must surely see her walking like this on the road. Any person that supports this lady…may your whole generation dress worse than this lady!!!!!"
jibolas said, "This is harassment and he needs to be arrested".
authenticmaan said, "This is what we should be doing to all these cheap gals 😂😂😂".
Watch video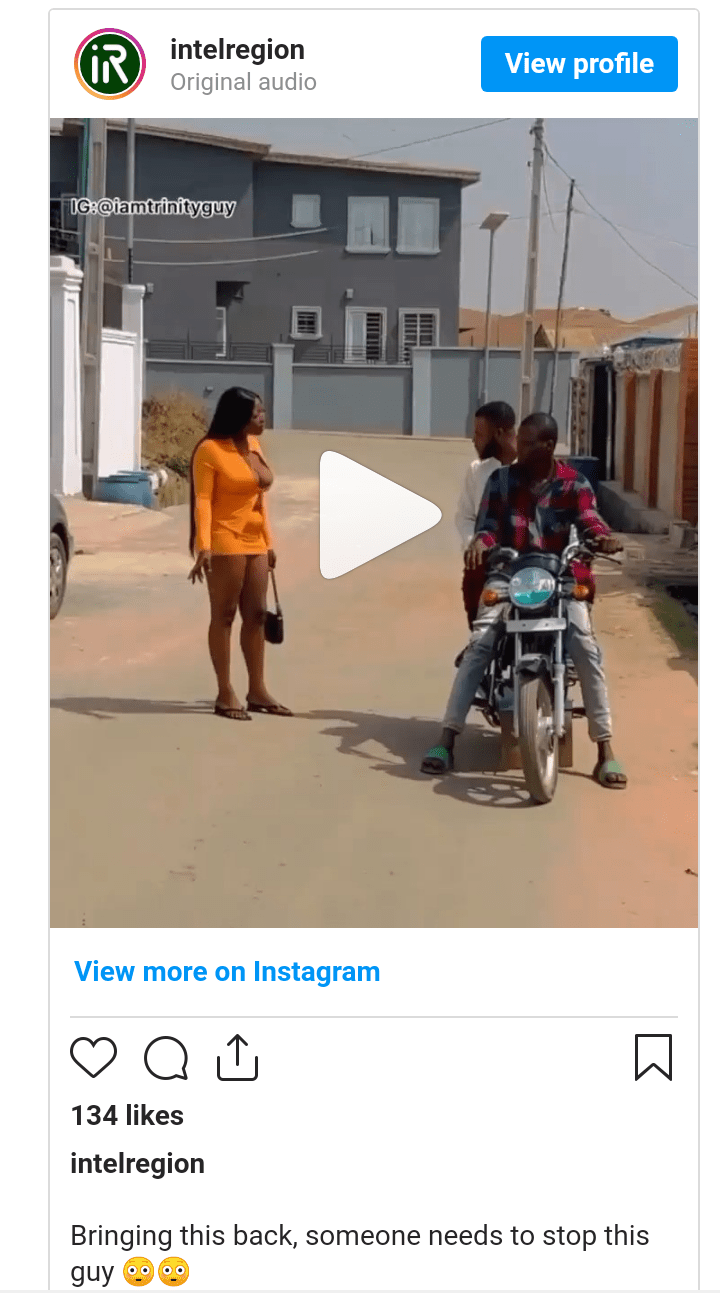 What do you have to say concerning this article share your opinion with us via the comments section.
Also read 
• Mother 'deals' with prodigal daughter tirelessly for leaving home since Christmas [Video]
• He is too handsome Nigerian cross dresser Bobrisky begs Tunde Ednut to link him up with handsome man he posted on Instagram
• I wanted to Marry her, Young Man who put girlfriend on N120k monthly allowance broke into tears after discovering she's cheating with a family friend