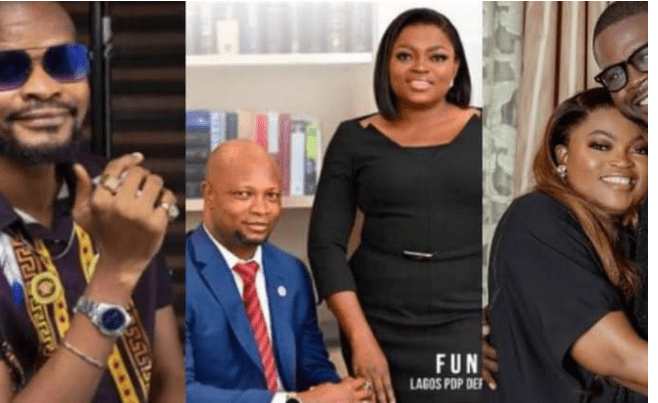 How Can Someime Who Can't Boast O f A Successful Marriage Fix A State Like Lagos?' – Uche Maduagwu Questions Funke Akindele Political Ambition After Two Failed Marriages
Uche Maduagwu Reacts to Funke Akindele Political Ambition
Popular Nigerian actor and influenceer Uche Maduagwu has come out online to throw shades on his colleague, Funke Akindele saying Funke has no business contesting for election.
It could be recalled that few months back Nollywood actress Funke was was appointed to run as the deputy governorship candidate of the Peoples Democratic Party (PDP) in Lagos State. And according to Uche he stated Funke Akindele can't fix a big state like Lagos since she can't boast of a successful marriage.
The actor made this post on his verified Instagram handle. In his words he said
Are you tired of been Broke!!! Check this

Struggling Financially? See 5 Ways To Become Financially Independent Now
"Na only for #Naija that #TRUTH is so BITTER like Aunty Kemi, I #laughed preposterously when my Manager showed me a #video of Nkechi Ikebe FC opening mouth to say those not supporting CELEBS Wey Dey enter Deputy Governor AsoEbi no get sense, it is obvious Aunty WA never get over Honorable PATA Kan Ojo Meta shaped breakfast, Aunty Funke Na my senior colleague, and I RESPECT am tremendously because she is a fantastic #world class Actress, if it is true she Don allegedly #marry before and the current #husband Don Kukuma run to allegedly announce Separation too, HABA something does not add up, maybe she need to beg God for spirit of total submission spiritually, leadership Na another form of submissiveness through SERVICE #lagos #bbnaija7"
Do you think what the actor said is true? share your opinion with us via the comments section.
Also Read "They don't cheat" – oyinbo woman advises ladies to marry a Nigerian (video)
I can't be with a woman who won't cook for me – Burna Boy 
Final year medical student allegedly stabbed to [email protected] by her boyfriend in South Africa after she tried to end their relationship