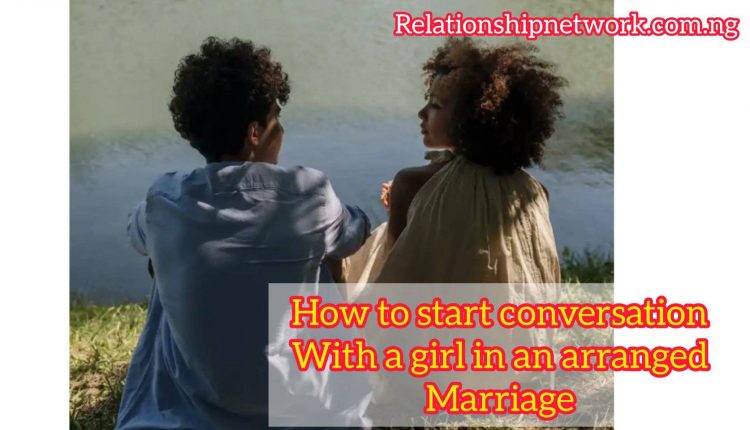 How to start conversation with a girl in an arranged marriage
How to start conversation in an arranged marriage
Every girl looks forward to getting married to a good man and getting a beautiful and a happy home/marriage, They look forward to getting a type of man that will make they feel special, Adore and cherish them all the time, Well in as much as you want to make a girl happy you should also search for a girl that will also make you happy, in searching for a good girl and a wife material in an arranged marriage might be difficult, especially when you don't know how to start conversation with a girl in an arranged marriage
What An Arranged Marriage
It is a marriage in which both spouses are chosen for each other by their parents, friend, or some dating site or an
An arranged marriage is a marriage where both individuals meet their self's for the first time with the sole aim of going straight into marriage
Example of an arranged marriage :
John and grace are two young and aspiring individuals who came from rich homes, after secondary school John's parents sent him to England for his tertiary education, and grace who is also from a wealthy home did her tertiary education in America John and grace parents are both close friends, and they decided to arrange a marriage for both of their children after some years John and grace finished their tertiary education aboard and came back to Nigeria and finally got married
take notes :
John and Grace had never met their self's before their marriage was arranged by their parents the story of John and Mary is a Clare example of an arranged marriage
Meeting a girl for marriage can make anybody feel nervous. The first meeting is the most important time because that will help you in selecting the right girl for marriage. So, it is very important that you learn how to start a decent conversation with a girl to win her heart.
How to start conversation with a girl in an arranged marriage
In starting a conversation with a girl in arranged marriage they are several Steps and measure you need to follow some of which include,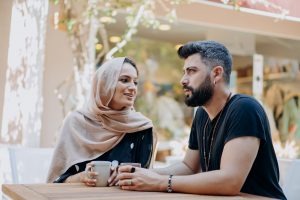 1. Approach and introduce yourself to her :
one of the first steps in starting a conversation with a girl that you haven't met before, but are interested in getting married to her is to approach her and introduce yourself to her
For example. Hi my name is john am from Poland, but I studied in England
2. Ask her name and how she is doing :
By now you are expected to know the girl's name may be the person who arrange for both of you might have given you a brief biography about her, but if you don't Know her name this is the right time to ask for it since you have told her your own name
For example, How are you doing dear and please can I know your beautiful name?
3. Comment on her outfit or your surroundings :
In keeping the conversation rolling just find something nice comment and comment on it.
For example, If you both are inside a restaurant you can simply comment on something about the restaurant e.g. wow I love their customer care service they are very nice and attend to customers politely
If you are having difficulty with what to say and what not to say to her, then this might help 17 of what to say to a girl
4. Compliment her :
After complimenting the environment you are you should try and find a unique thing and give it a very worm compliment
For example, I love your hair they look like that of an angel
5. Ask a question about school or work :
After complimenting her then you should ask her how has she being day going if she is a student you should ask her how was school? if she is not a student then you should ask her how was working today?
6. Bring up a shared experience :
bring up being shared experience simply means telling her a little about yourself stuffs like your first year in the university or one of your special trip etc
7. Pose an interesting question :
By now you both must have been enjoying your company you can now through some questions to her to know her personality and the kind of person she truly is make sure you ask interesting and meaningful questions that will be beneficial to your intentions of marriage
If you know that you always start having a crush on her but yet you don't know about her own emotions, then check this out How to make your crush fall in love with you
Conclusion :
These are some ways you can start a meaningful conversation with a girl or boy you haven't met before but have been arranged for marriage starting a meaningful conversation and asking they some questions will help you know them better their answers and response to your question will tell you the type of person they are. It is then left for you to decide either to continue with the arranged marriage proposal or to call it up
Later we will drop some amazing questions
to ask a girl in an arranged marriage meeting to know if she is the right woman for you and also questions to ask a boy in an arranged marriage meeting to know if he is the right man for you. all these will be available here so please subscribe to notification thank you.