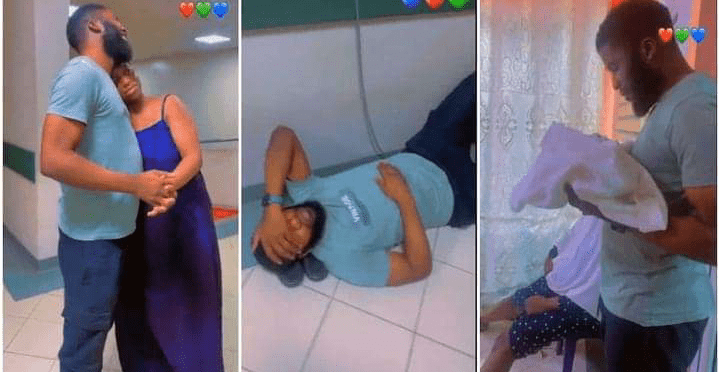 A young man is currently trending on Tiktok over the way he Pampered his wife while she was in the labour room. As the young man posted a video of himself, Tiktok users shower Parises on him due to the way he supported his wife.
In the video he shared, when his wife entered the labour room, the man was with her at every moment until she gave birth. As the labour pain increased, he held his wife in total support and he never left her side in the video.
In fact, it got to a point where the young man slept on the floor inside the hospital waiting for his wife to deliver. Before the video ended, it shows when he finally held his baby in joy after his wife delivered successfully.
As he posted the video got online, many people has described him as a good husband, and as at the time of posting the video, it has gathered over 106k views on Tiktok.
 video below
After watching the video, social media users rushed to their comments section to share their reactions to the video
 see social media users' reaction
 @divine frank said: "Congratulations to her. Safe delivery to every expectant mother."
@bunmieniola858 commented: "Congratulations. Haa! it is not an easy task at all. Kudos to all mothers in the world. We shall all eat the fruit of our labour in Jesus name. Amen."
@akinsolamariamayobami said: "And God bless your husband. He is a good man."
@sdat1205 reacted: "Congratulations dear. Labour pain no easy oo! I was just behaving anyhw. I told them abeg make una operate this pikin. I don taya."
Also read
• This Dad Raises His Quadruplets by Himself After His Wife Passes Away in Childbirth
• 46-year-old mom gives birth to identical TRIPLETS she conceived naturally after being told she can give birth to another child.
• Check out this list of Nollywood Actresses who gave birth to their first child at a young age, Between the age of 16 20 years