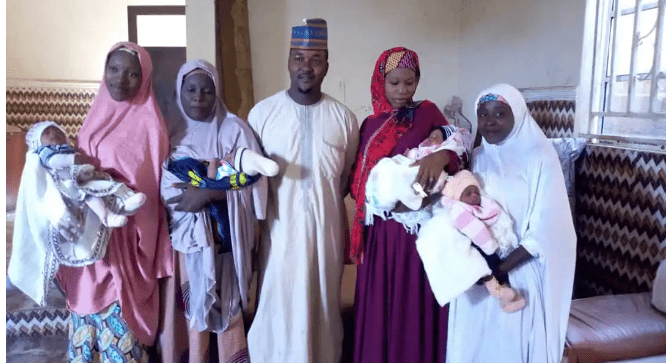 A 36-year-old carpenter identified as Nura Walwala Magaji from Zango ward, Bauchi State, is over excited as each of his four wives gave birth within three weeks, making him a father of his children thirteen, 10 boys and 3 girls.
In a national TV interview, the father of 13 appreciated Allah for blessing him with four he also added that his dream is to father at least 40 children.
In his words he said
"I thank God for this precious gifts because it is not everyone who desires to have children are blessed with them. While some have mixed genders, others are given boys exclusively. Babies are a gift from Allah and I am happy that my four wives gave birth to three bouncing boys and a girl within just three weeks," he said. 
Nura also explained how his family feeds in his words he said;
"I am aware that caring for kids can feel like draining work. If we don't find a proper balance between caretaking of our family and investing in our own self-care it can be easy to miss out on the daily joys of a childhood unfolding before your eyes, family-life, and the legacy that you have the honour of passing to your children."
---
Trending Brilliant Nigerian man wins scholarship to study in both Harvard and Oxford university, lands in the US
---
The carpenter finally added
"Polygamy runs in my blood. In fact, we inherited it from both our maternal and paternal grandparents. My mother's father married four wives , likewise my dad's father . Yes, it might sound funny but am so proud of this achievement. Growing up as a child, I used to pray to Allah to bless me with 40 children and people laughed at me," he said. 
Check this Meet 16-year-old boy who got 9 A's in the 2022 WAEC and scored 331 in jamb exams
"You know everybody has their idealogy and you cannot force a particular ideology on someone. Haven said this, bearing family responsibility is not solely in our hands as husbands , rather, it is in the hands of our Creator. Look, Allah commanded us to start by marrying two wives, then proceed to three wives , then four wives and He said if you cannot be just among them, go for one wife", Nura added.
"Nine out of the 13 children are enrolled in formal schools and just as you can see, an Alaramma is around teaching them how to memorise Qur'an." he added.
Congratulations to Mr Nuru what do you have to say concerning this article share your opinion with us via the comments section.
Also Read Lady gets engaged as she graduates from school with her boyfriend on same day.
Meet Nadya Suleman Who Gave Birth To 8 Children At Once, Check Out How Big They Have Grown (Photos)
"I gave birth 15 times" : young mum of 44 children says she  want more babies.