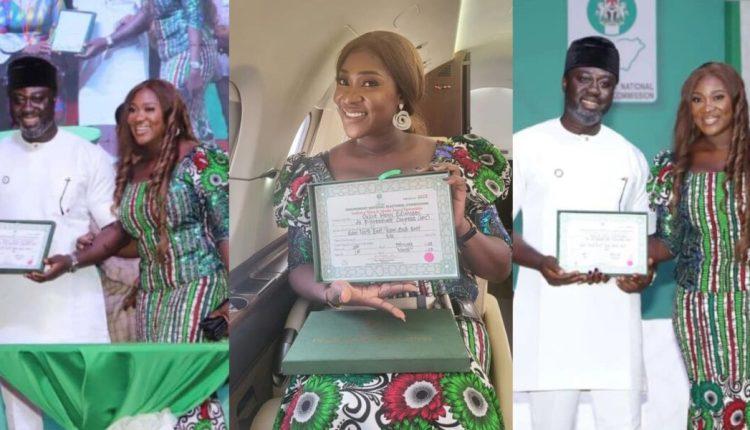 "I dedicate this certificate of return to you my dear wife" mercy Johnson's husband, prince Okojie dedicates his certificate of return to her, praises her for her unending support
Actress Mercy Johnson's husband, Prince Odi Okojie, has lavished praise on her for her assistance with his campaign.
Mercy was hailed by her husband for being the epitome of a devoted wife, which contributed to his success.
Prince Odi Okojie is the the newly elected representative for Esan South/North East in the Edo State House of Representatives.
He observed how their powerful unity had let them soar, not because of our perfections, but rather because God had fixed His eyes on them for all time.
Sharing a picture of them together, he wrote : "MY BEAUTIFUL DARLING WIFE.

"Words will fail me if I have to describe you and what you mean to me over and over again. When I count my blessings, your place on my list is NUMBER ONE, nothing or no one can ever change that.

"Our formidable union have continued to soar not because of our perfections. Are we even perfect? It is largely because God got His eyes on us permanently fixed. You are the best thing that ever happened to me and everyone can see it Clearly.

"Queen of my Life, may I seize this once more to adore you immensely for your fervent role in this humongous call to serve my people, out people. For the invaluable support you keep rendering, for the timeless backing you huge me for the unending prayers, love, care and everything deserving of a man in my place, I say thank you my darling wife. Obulu!! Obulu!! Obulu!!!

"You have endeared yourself as a truly blessed 'Obhiaha' of a reputable standards to my Esan Heritage, you have demonstrated what a true supportive wife should be and this has landed us many successes and by the special Grace of God Almighty we will journey together hand in hand to the end in our continued quest for our humanitarian and philanthropic outreaches in mind service to humanity.

"Before I drop off, I want you to know that my love and appreciation to you for all your effort to this victory for our Constituency is immeasurable and may God in His infinite Love and Mercy, continue to shine His light of glory on you, for in me is the reflection of that grace, abundance, splendour, and grandeur your bare.

For this and many more, I am dedicating this certificate of Return to you my dear wife. Your quintessential role in the entire process leading up to this win earns it for you".
Read also : "She Be God?" Video Trends as Bride Stops Dancing With Hubby During Wedding, Quickly Kneels for Mercy Johnson
R