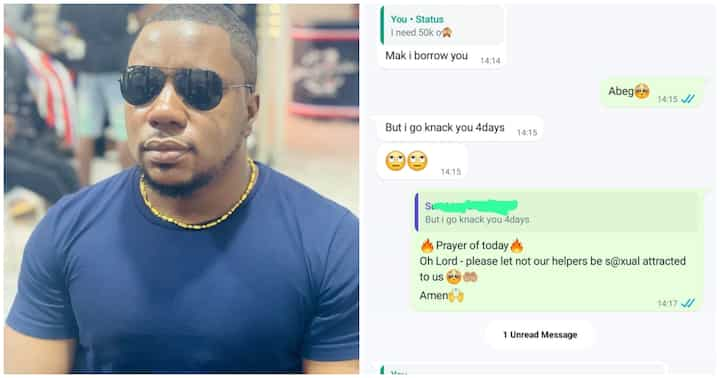 "I Go Knack You 4 Days": Nigerian Lady Tells Man She'd Sleep with Him before Helping Him with N50k, Chat Leaks 
"I Go Knack You 4 Days": Nigerian Lady Tells Man She'd Sleep with Him before Helping Him with N50k, Chat Leaks 
A man identified as chizitere has taken to his social media handle to unveil the chat he had with a lady who offered to borrow him 50k.
According to the post, the lady agreed to give him the 50k he begged for on the condition that he will sleep with her for 4 days.
Following the post, though the man did not mention the name of the girl, he advised his followers and fans to be very careful as he prays for our helper not to be sexu@lly attracted to us.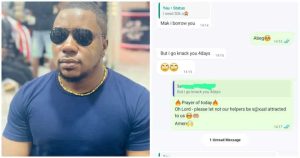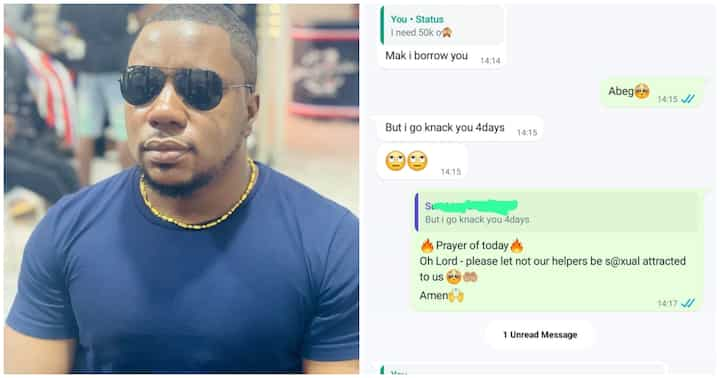 This is something else.
READ MORE:
"This is unbelievable": Man spends burial funds contributed to give to a colleague who lost his mum, female colleague shares the story online.
"I dont know what my daughters' teacher did to her": Mum cries out, shares video online.
"I no do my papa like this when I was small": Nigerian dad laments as baby clings to him in video.