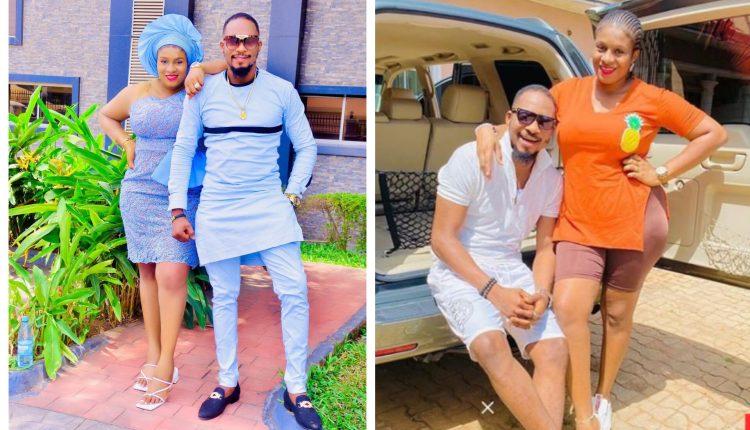 "I rather run mad than hit my wife" – Actor Junior Pope
Popular Nollywood actor, Pope Odonwodo, better known as Junior Pope, has revealed what would happen to him if he ever hits his wife.
Junior Pope stated that he is willing to go nuts if he ever lifts his hands to strike his wife, Jennifer Awele.
In an interview with Punch, the actor stated this when asked about the problems in his marriage and the lessons he had learned from it.
When asked how he manages to be a celebrity, a loving parent to his children, and a spouse to his wife, Junior Pope revealed that he learnt everything from his father, he thanked his father for leading an exemplary life.
In his words:
"Back then it seemed like it wasn't working, it was not easy at all. I have not mentioned it before but to the glory of God, today let me share this. After I got married, the first year was not rosy; I collected my wife's gold jewellery and used it to borrow money from aboki. So, I give Him the glory for giving me a patient wife. Why would I want to touch a woman like this? God forbid. One thing I told myself and God is that the day I lay my hands on my wife, let me run mad. Instead, I walk away."
"My dad taught me all even though he didn't spare the rod to spoil me. I grew up with a disciplinarian, so you need to pick from all areas and add up. So, the part I didn't see in my dad is what I am giving to my children and that is the playful part. This is how I try to balance the equation. As a celebrity, you must know where you are coming from. Once you let this celebrity thing get into your head, then you are heading for a fall. Imagine as big as Mercy Johnson is, and the way she is so humble to her husband, why will their home have a problem?

When the woman does not want to be controlled by the man then the home will not be strong; we are in Africa and the man is in charge of the home but the man should not take advantage and weigh both sides. I grew up with a man that says 'what I say is what must happen' with so much force, but I do not use that on my wife. I try to make her see reasons why it would be so. I made her part of the decision-making board.

A lot of celebrity marriages crash, especially of those who show off their family on social media, Junior Pope shares the secret to his successful union.

"First and foremost, I will give glory to God because, like one of my senior colleagues and directors, Emmanuel Lancelot would say, "if your wife dey behave well na God do am for you, no use am brag or compare another person own." So, it's been God, and it also partly has to do with my upbringing. The secret is that I carry my wife along, I share everything, and we do not have anything private. We touch each other's phones; you know when a man says my wife doesn't touch my phone and I don't touch hers, there is no more transparency in the marriage. There should be trust in marriage; as Chinua Achebe said, "As long as the bed keeps shaking the marriage will last forever." I told my wife that the only thing that can make me opt out is infidelity. Aside from that, every other thing is workable."
Read also : Heartbreak no concern this one Pretty lady who doesnt have money to pay a painter after renting a house uses her hand to paint it, video stirs reactions.