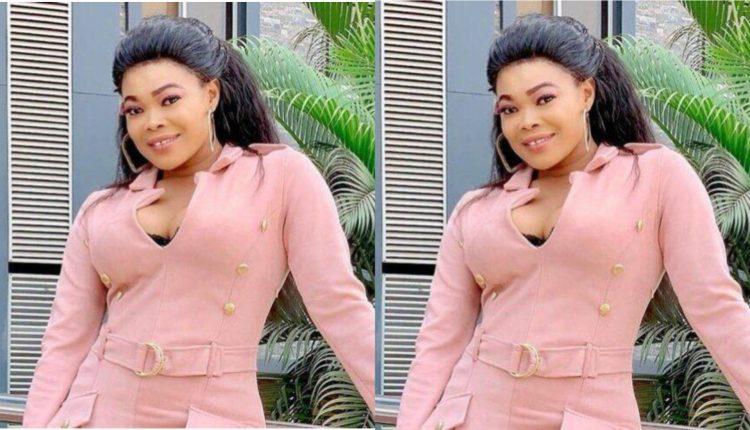 "I still get movie roles despite turning down s3xual advances from producers" – Ruby Ojiakor
Nigerian actress Ruby Ojiakor believes that only actresses who are thirsty for stardom in the film industry allow themselves to be used by shady producers to gratify their sexual urges.
According to Ruby, she still gets movie roles despite turning down sexual advances from producers.
The actress revealed this in a recent interview when she was asked about the problem of sexual harassment that exists in her field.
Ruby Ojiakor stated that it is only desperation for fame that makes some of her colleagues sleep with producers.
She noted that so long as one has talent, they won't need to sleep with any producer for a movie role.
In her words:
"It is good when an actress is talented and knows what she is doing. Many of the girls that prefer to sleep with filmmakers are not that good at what they do. They are just desperate, want to become overnight stars. If one is not desperate and one keeps praying to God, one will get movie roles, even if one does not sleep with filmmakers. The filmmakers will not have any option in such a case because the person is good. It is important for actresses to always work on themselves. Once they do so, they will always get jobs. I still get calls despite turning down sexual advances from producers."
Ruby Ojiakor revealed her unpleasant meeting with a sleazy producer who wanted to make out with her in exchange for a movie job.
She said:
" I remember when I was called for a job in Enugu and we shot it for two days. I was supposed to be the female lead character in the movie. The marketer that owned the job wanted to 'get down' with me. But, I told him I could not do such a thing. I thought that since I had started shooting some scenes in the movie, nothing could be done to me and he cannot cancel my scenes, which I shot with Ghanaian actor, Majid Michel, then.
I also felt Majid would not want to re-act the scenes he had done before. Those factors made me think that the producer's decision to change me would be fruitless. But to my surprise, I was not called to continue my scenes. When I challenged the production manager, he said I should not be angry because someone else had been called to play the role. I was not given any reason for being removed from that project.
I asked if Majid agreed to re-shoot those scenes, and I was told he was paid extra money to do so. That was how I lost a movie role because I refused to sleep with the owner of the movie. The scenes I had already shot were wiped out from that movie. That was a painful experience, but I have moved on."
Asked to proffer solutions to this vice which has eaten deep into the Nigerian movie industry, the Enugu State born actress made more shocking revelations.
"I don't think anything can be done to stop sexual advances from filmmakers. Some people have tried to report them, but it has not yielded any positive result. When an actress reports an offender, she is practically setting herself up for a fall. The offenders know themselves, and if one person reports any of them, they would gang up against that actress in the industry, and she would not be getting movie roles.
It is just like a cartel. The best thing is to train oneself and be firm that even if others are doing it, one will not do it. That was what I did".