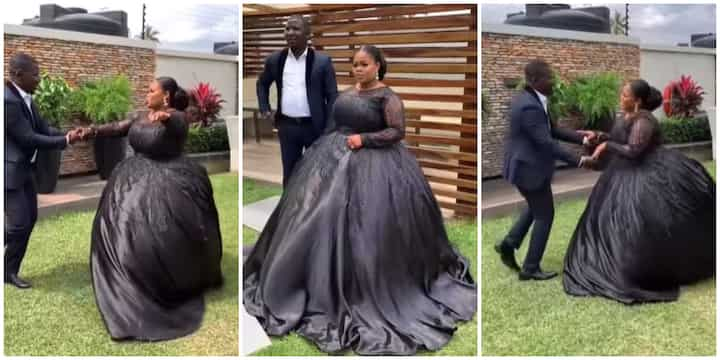 "It's A No for Me" Reaction trails as Beautiful Bride was spotted in Black Wedding Dress at her wedding reception
A beautiful bride who just recently got married has been trolled online over the color of her wedding gown, recalled that most brides chose the color of their wedding gown to reflect their special days, and as such many chosen white, cream, ivory, goldany or any other light color as their wedding dress,
But a beautiful bride has chosen to be different, While many women would rather go for light color gown, this bride made a daring fashion statement and appears to her wedding in black.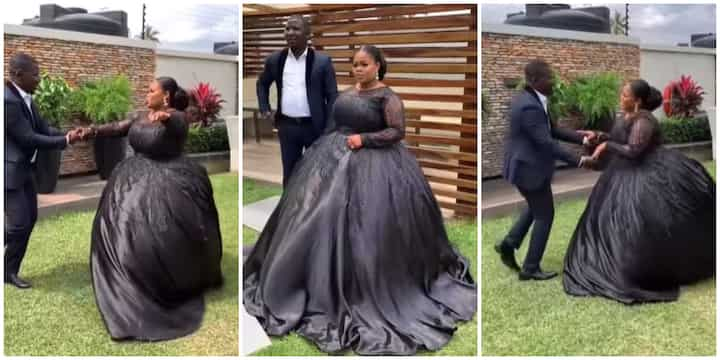 The makeup artist of the bride had first posted a video of the wedding scene but it was immediately taking down. In the now-deleted clip, the bride was seen in a ball gown with long lace sleeves, having a special moment with her man.
As the video got online, reactions trail to the bride in black wedding dress and Netizens took to their comments section to share their reaction to the video.
See Netizens Reaction
iam_mibh: "This can never be me… I'm dazzling in white since I'm a v*rgin abeg but if there's a touch of small knack before, I wear Gold. I stand with purity." jewel_phait: "I like the fact that it's unique but I'll chose white over this."
melaninquin40: "Yeah issa no fa me. Not because it's black, the style isn't it sis."
chocolate_candy222: "No it's white for me."
estellemilon: "Trends aside, as long as the bride loves it then I can love it. She looks lovely in her dress."
queendest_beddings: "I will prefer Ankara.
Also read
• This is wastage of money reactions trail as New Bride use 100 yard of materials to make long dress on her wedding day (Video)
• I am happy to be your Chief Bridesmaid Nollywood Actress Rechael Okonkwo to Nkiru Sylvanus on her Wedding day
• This is true love Netizens reacted as Groom and his Bride arrives their Wedding reception in grand style on two Keke