"joke silvas devotion to her husband is because she is old school" : Patrick Doyle wrote…
"joke silvas devotion to her husband is because she is old school" : Patrick Doyle wrote…
A popular thespian known as patric doyle has taken to his social media handle to pen down some loving words about joke Silva.
According to his post over the trending news of olu Jacobs 80th birthday, he has commended the wife joke Silva for being a submissive wife to her husband despite his health condition.
In his post the veteran actor praised  popular nollywood actress joke silvas for not being like the modern day women who would have taken advantage of the mans condition to torture him or look down on him.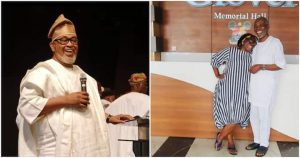 He wrote…
"All those women hinging Joke Silva's devotion to her ailing elderly husband on his devotion and care towards her in the early stages of the marriage have simply got it wrong. According to them "not so faithful and devoted husbands" should not to expect the same kind of treatment in the twilight of their lives, they even go as far as telling such men to expect torment from their wives in old age. In their little minds they have concluded that Joke Silva shares this flawed philosophy of theirs."
"The Joke that I know would have still treated Uncle Olu with the same measure of love and devotion even if he were a philanderer and wife beater, which thankfully he was not. She would never have taken advantage of his vulnerability to torture him because it's simply not in her DNA to do so. She belongs to the old school where dignity and honour count and where doing the right thing is not contingent upon reciprocity. "  
Reacting to this, netizens has fallen in love with his content as they expressed it through there loving comments.
Whats your reaction?
Read more…
"I will worship him" pretty female herbalist says she is ready to be Ned Nwoko seventh wife