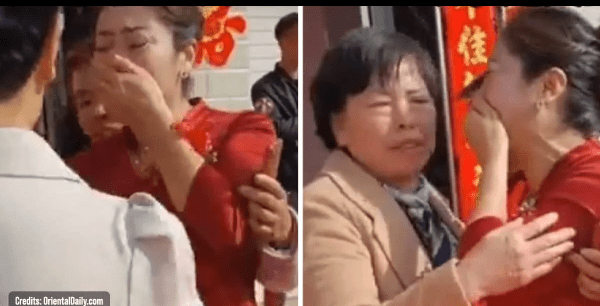 This was the story of an elderly woman who lost her daughter over 20 years and finally found her.
You might be wondering how it happened..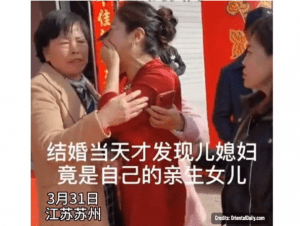 An Old woman had a son who was about to get married, he discussed it with her mother and she talked to the girl on phone. not knowing that she's her daughter who has been missing for over 20 years.
After they both agreed to marry with the approval of both families and fixed a date for their marriage,
The old woman gladly went to her son's marriage picturing in mind how beautiful her son's bride could be.
Not knowing that it was her daughter that she was going to meet.
On arriving at the Occasion, both families introduced each other since they haven't met before while the old woman went straight to embrace her daughter-in-law-to-be.
They both greeted each other while the elderly woman, out of happiness addressed her as a very beautiful lady.
While having the conversation, she noticed a birthmark on her hand which reminded her of her lost daughter.
On noticing that, she went to where the bride's parents were sitting and inquired from them tactfully if the bride was their real daughter.
The bride's parents were surprised on hearing the question but they told the old woman all she needed to know about their daughter, they explained how they found the little girl lost on a lonely road and adopted her.
After everything, the bride happens to be the daughter of the old woman whom she had been looking for.
When they disclosed this to the girl, she was surprised and was so delighted to meet her biological mother.
But here comes a big problem!!!
How could the marriage work?
Since they are now brothers and sisters, they can't marry each other.
But the old woman fixed the whole situation to a happy end.
She unveiled that her son was adopted as well.
So they were not related and could proceed with their marriage.
The couple went ahead to exchange their marital vows as guests wished them a happy married life.
Light fades…
Read more…
Beautiful Bride Shows Up At Her Wedding With Out MakeUp On Her Face