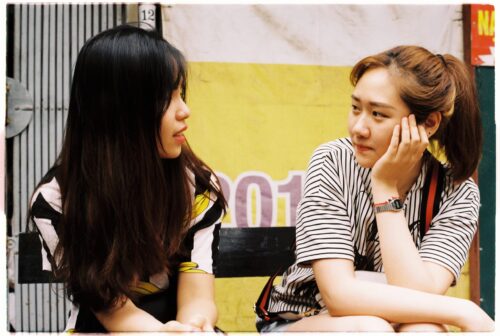 My Blood My hater Episode 1
My Blood My Hater 1
Ext : UNDER A BIG MANGO TREE IN FRONT OF A HUGE OBSOLETE BUILDING… DAY
A tall dark skinny man by name MFONISO 53, is seen sitting down with his brother by name ITORO 41 drinking and talking about their immediate families under a huge umbrella tree.
MFONISO: (laughs out loudly)
My dear brother, can you imagine, my wife called me last night and told me she wants to go back to school…
ITORO:
(laughs out mockingly)
Hmm. Is she out of her mind, when things are very hard. Does she have the money to see herself through school?
MFONISO:
My brother, there is money but I think she is too old for that. I was actually thinking of enrolling my daughters in one of the secondary schools here.
ITORO:
Ah, brother, but why?
Is Imo and Uforo not too young to go to secondary school?
Hmm, am sorry to ask you all of this but I think you must be making some mistakes… Brother look around, how many graduates in this community are as rich as Eben the fisherman.
Why not look for any small thing for them to do so as to generate money for the family. Besides of what use is a female child education. (he chuckles) After wasting or spending or whatever you want to call what you do with your money. (he keeps a plastic cup down) your hard earn money on her, at the end of the day she will pack her fortunes to her husband's home and you will be here all alone.
MFONISO: My dear brother, you see this world, as a man thinks so is he.
My two lovely daughters are nothing like those graduates who went to school and came back without any evidence or proof to show.
I believe in my daughters and I know they will surely make me proud… (touches his brother) don't worry, you can also do the same as well.
Send your son to school, you know very well that our parents prevented us from going to school simply because of those useless stories.
ITORO:
Okay, if you say so, I will definitely think about it and make sure I will do something about it. But still, I still do not approve your opinion of sending your two daughters to school.
MFONISO:
(Looks confused)
My brother how do you mean?
ITORO:
Time will tell. Do not be confused… I think I have over-stayed my welcome. Say hello to your wife and children when they come back. Goodbye brother.
MFONISO:
(Smiles at Itoro)
Bye…. (to himself) look at him, he has been encompassed with negative thoughts, so pessimistic. I believe in my daughters, they have never failed me in anything before most especially my Imoh makara, eyen ima mmi.. God bless them for me.
Let me go in and look for what to do.
SCENE(ii) ACT (1)
INT: in the parlor, a woman by name IDARA 34, is seen sitting down on a big wooden chair, peeling some oranges. her husband Itoro comes in looking miserable…
IDARA:
Awo mmi (my person), why are you looking so pale, has your brother offended you again?…
ITORO:
Ima ima mmi (my love). My brother has not done anything wrong yet but he is on the go of doing something terrible. (sits down)
Ima, can you imagine my brother planning to send his daughters to secondary school. Having finished primary session, I didn't say anything, now he wants to further them…
IDARA:
(looks shocked)
What?
Awo mmi are u telling me the truth. Hope you aren't lying to me at all?
ITORO:
Awo ima mmi, afo se tan diie ikotom( my love why do you always talk like this). Am telling you precisely what my elder brother who actually prevented me from going to school told me to my face without the fear of God…
IDARA:
In this world people are wicked, very wicked. (goes closer to him)
Ima, don't worry, have you forgotten who my father is?
I'll show them that I am the only child to chief Ekong Ntien.. This is absolute wickedness. how can your own brother be this wicked?
He stopped your father from sending you to school not contented with that he also went and claimed the whole land you inherited from your father, ima, what is happening? have we not kept quiet enough? it is high time we showed them that we are not foolish.
ITORO:
Ima, you are right (holds her hands) ima you are right. We need to do something… His children have to go through what I went through in life. (looks at his wife) ima I am ready to fight this battle.
IDARA:
(smiles devilishly)
No one messes with us and go scot free… They shall suffer it.
Light fades
SCENE(iii) act (1)
INT: A kitchen door is seen open, and a tall, quiet pretty dark woman by name UYIA 30, comes out, calling out to her two daughters whom she sends on an errand.
UYIA: Uforo! Uforo! Uforo! Imoh!
MFONISO: Honey, why are you screaming their names like that by this time of the night?
UYIA: Ah daddy, am so sorry my voice must have woken you up. But your daughters are very….
MFONISO: (cuts in) Hardworking. Don't be saying negative things about them. so how was market today?
UYIA: Daddy, today's market was fabulous… I thank God so much for seeing us through.
MFONISO: God really answers prayer(smiles) ehmm, that reminds me my brother came here today.
UYIA : Wow! So, you eventually didn't go to the farm today.
MFONISO: (smiles at her) What do you know. My lovely brother came and saw me today, is that why you are jealous?
UYIA: (smiles back at him)
Am not jealous of two brothers who do not know where they are headed. Hmm, daddy, I have been longing to ask you a question concerning what you told me about that your brother, Itoro.
Mfoniso: (nods his head) Yes, go ahead. I'm listening.
UYIA: Okay, can you remember vividly when you told me how your brother was dropped out from school.
MFONISO: Yes, I do. And so, what about that?
UYIA: my question is (she swallows her spittle) why was he dropped out, what did he really do?
MFONISO: (chuckles)
My dear, my father's friend came to our home and deceived my father not to allow us go to school… Hence I had to start up fishing job which I never used to like in order to assist my brother through primary school.
UYIA: Are you serious? how did he end up as a poor farmer?
MFONISO: My dear do not make me laugh… My brother was never serious in academics… He went and got a lady pregnant which brought about strife between our home and the lady's home. It was…
(IMOH 15 and UFORO 15 COME IN)
IMOH: papa! Papa!
MFONISO: My pressures, you girls are back, so how was your day?
UFORO:
Papa Good evening. (goes straight to the kitchen) mama, here you go, sorry we stayed longer than necessary.
IMOH : Papa, mama bought us so many edible things today… We over fed ourselves.
MFONISO: (pretending to be surprised) Are you serious?
So your mommy bought you people plenty of eatable things without keeping my own for me……. (looks up to the cloud) oh lord are you seeing how wicked this world is.
UFORO:(cuts in) Papa, am sorry to interrupt your conversation with Imoh, I hope you don't mind.
MFONISO: (looks at her wordlessly)
Mfon amama, do you know why you are like this, because you aren't a straightforward kind. My dear go straight to the point and stop all of this grammar.
UFORO: (smiles and looks at her sister shyly)
Papa am here to tell you that your food is….
MFONISO:
Ready right?
UFORO:
Yes, papa… Sorry I didn't go straight to the point papa
MFONISO:
(holds her)
It's okay dear. (to Imoh) would you like joining me?
UFORO:
(shakes her head)
No papa, our food is in the kitchen. Don't worry about us papa ours is readied already.
MFONISO:
Okay sweethearts. Let me go in and eat cause am super hungry. (exits)
IMOH:
Uforo you know that you aren't okay. Papa spoke directly to me not you, but why did you answer on my behalf when I wasn't absent?
UFORO:
(laughs at her)
I knew you would go with him(chuckle) you know how stupid you can always be for Africa.
IMOH:
(furious at her)
Uforo I don't like it when you are always making me feel like I don't know anything and that I am really stupid.(pretends to be extremely angry) I dislike it so much, so please.
UFORO :
Imoh look, why are you like this. I was just kidding and you took it serious. For once why can't you take joke and stop exhibiting your talent that has never changed the conditions of the family. Let's go and eat am famished already.
IMOH:
Uforo am serious, very serious. Do not always make me feel that way, I hate it.
UFORO:
Okay, I take back everything I said, Imoh daddy sorry, are we good now
IMOH:
Yes. Let's go and eat joor before I cast you. (they exit)
ACT (2)
scene (i)
INT: inside
INT: inside an unkempt hut, an old tall and athletic man is seen talking to some clay-made gods. He's chanting and laughing with them. His name is Ekong 79. Idara and her husband Itoro come in.
EKONG :
(smiles at them)
Finally, you people have come back to your normal senses. I knew it that's why I didn't rush into doing what I might live to regret.
IDARA :
Ette, could you please at least usher us in and stop relating to us stories about how we ran away.
EKONG:
Oh am sorry. (to Itoro) young man, pull off your sandals before you come into the hut. (they enter)
Sit down, so adiaha (first daughter) what has brought you two stubborn goats back?
ITORO : Papa, we are sorry, we left just like that.. I never knew your gods was very great until Yester night when my wife, your daughter testified to me what it has been doing﹑so my wife and I have chosen to worship your god with you.
EKONG :
(laughs and chants)
My son, you have done a good job. this is the best thing to do…
IDARA :
Ette(father), do you still remember what I told you concerning my husband's brother?
EKONG:
Yes,  adiaha Ette (nods his head)
Do you people want him dead?
ITORO:
(all of a sudden)
No no.. He is still my brother
IDARA:
(to her husband)
Ima, calm down, killing your brother is the only solution to our problem.
He has stood between us and our destination for a very long time, it is time we eliminated him from this planet earth. By now at your age, people should be coming to you for help not your brother. My dear we have lost all the chances to them, lets stand up and face it.
ITORO:
okay, let's start with the wife.
IDARA:
No, we should start with your brother, your brother is the head of the family, so for us to destroy the home we should start with him…
EKONG:
I have heard you all and I will do precisely what you want me to do.
Light fade
Scene (ii)
ExT: School compound
Imoh and Uforo are seen reading their books at the school's canteen. When their best friend RITA 14, walks in and buys them snacks. While they were eating, the son of Eben PAUL 17; comes in with his friends to catch fun.
PAUL:
(To one of his friends)
Ettebom, why you go talk that kind thing, my papa wealth no be my own so na im make me wan study hard, I wan make my papa dey proud of me guy, you don't get?(to the lady in charge of the restaurant), madam good afternoon..
Madam:
Afternoon, Eben enye, nkpo abadie ? (Son in-law how things?)
Paul:  Ma, am fine. Please ma I need five plates of pepper soup rice, five bottles of Guinee's malt and five sachets of water.. Thanks ma.
FRIEND 1:
Paul the Paul. You can enjoy for the world o
FRIEND 2:
I tell you, if no be for Paul I no sabi who 4 recognize people like us for this school.
PAUL:
Guys lets please stop speculating on that headline. Tomorrow we are writing English test. Donald, have you read?
(DONALD 17, is busy looking at Rita and her friends when STEVE 18 calls him)
STEVE:  Donald! Donald! Donald!
(all the guys laugh)
DONALD:
Sorry, I was.
PAUL:
You were obviously looking at some j s s1 girls. Guy how is it doing you? Look, because of you I received a slap from a cheap worthless bitch last term, no no I don't want that to repeat itself again.
DONALD:
Paul will you please drop all this shit, we are human beings not sticks, we have feelings.
That your mother left your father when you were very young doesn't mean you should hate every other girl. Common try falling in love and let go off this reading of books all the time…
PAUL:
I am disappointed in you. (to other guys) see what I told you about… This guy is obsessed with women. Am leaving.
MADAM:
Ebe , aren't you eating again?
PAUL:
No ma, but please do serve them.
UFORO:
Lemme meet the lady in charge of the canteen (as she stands up to meet the woman, she bombs into Paul and her drink spills all over his shirt) oh am sorry, so sorry.
PAUL:
(extremely furious at her for not watching)
Are you mad?
are you insane, haven't your parents taught you how to turn around when eating, I can see you lack some home training.
IMOH:
Senior, she just told you she is very sorry. (tears roll down her cheeks) why did you abuse her like that, it's an accident and anyone could do it..
PAUL:
(moved closer to Imoh )
what do you mean by that, do you think am stupid, I didn't see how she stood up from her seat and hastened towards me without watching? Please spare me that.
UFORO:
Who do you think you are as to insult me simply because my drink accidentally spilled on your shirt. You are so arrogant and self-centered. (she goes down and cries incessantly)
RITA
Senior, you of all people. why you so differ from your father, why are you so arrogant… I am disappointed in you, is this how you will make your father proud of you.
DONALD:
girl, enough
do you know whom you are speaking to in that manner?
RITA:
I careless about whom am talking to. The person we all used to admire has turned out to be the one who has just showed us how crazy he can always be and has likewise justified the saying 'never judge a book by its cover.
I used to think he was the best not knowing he's the worst (tears drip down) she is my friend (to Paul) a girl who is also struggling to make her parents proud just like you. (she cries out to her friends)
STEVE:
Paul, why are you so quiet?
Why aren't you saying anything?
Say something paul! Say something.
DONALD:
He is not happy at all, so let him be
PAUL
What class is that girl whose drink spilled on me by mistake?
FRIEND 1:
Are you just realizing that?
PAUL:
I need to apologize to them (to his friends) I need to tell them how sorry I am (to Donald) am sorry friend, you were right about me, am so naughty, arrogant and selfish (tears drips down) how could I have done such a naughty thing without a second thought, how?
FRIEND 2
Don't cast the blame on yourself friend, you are a nice friend, and so caring.
PAUL:
No Man, am not… You heard those girls right?
(to himself) I just messed up their sweet day. (to his friends) I screwed up.
MADAM:
Paul it's okay, I believe you can make it up to her by doing what your spirit tells you to do…
Go to her and tell her to her face you're sorry. I believe she will definitely forgive you, I know Uforo, she comes here all the time to read and to eat, actually she is not always like that, she shouted at you out of frustration and pains. I heard that her father was taken to the hospital and that his condition is critical and her mom is dying…
DONALD:
Ehyaah!
I feel like telling them sorry too.
PAUL:
(to the lady) what did you say her name was again?
MADAM:
Uforo.. Uforo MFONISO Isong
PAUL:
Guys am coming, please go back and eat, I got this one…
STEVE:
Are you sure it is okay?
I mean is it okay with you to go see them alone?
PAUL:
Yea… I committed it. It is my cross to carry. Thanks friends. (exits)
To be continued…………
thanks for reading my blood my hater Episode 1 complete the reading by scrolling down……
SHOULD MARRY ME OR YOU LET ME GO 1 to end