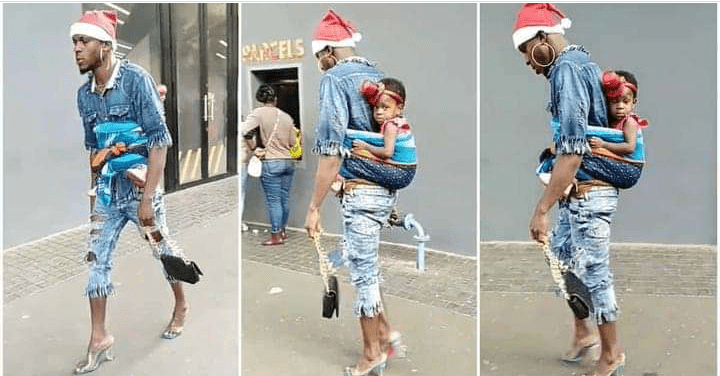 A video which is currently going viral on social media has put a smile on the faces of Netizens over the video of a man who stormed the street with a baby strapped on his back.
The short clip why h was shared by @papapskits it shows the man also spotted in a very tall high heels and dangling earrrings, The 14 seconds clip captured the moment as people were walking and minding their business without asking the man any questions.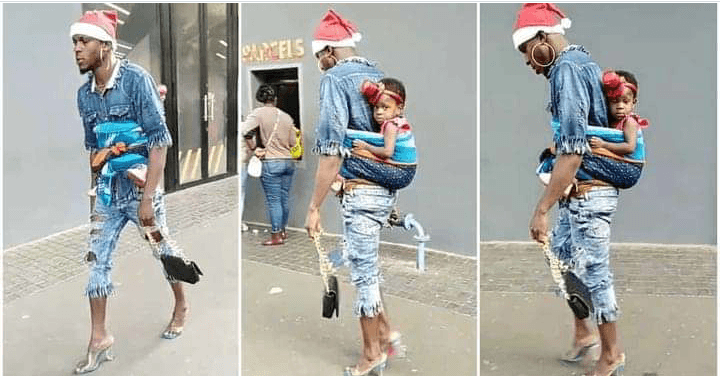 Nobody seems to pay attention to the man's strange dress and the way he chewed gum and walked with the baby.
It appeared that the funny video was recorded during the Christmas period because the man was also spotted with a Santa cap. On seeing the video, TikTok users had a good laugh in the comment section over the video which has raked in over 1 million views.
See Tiktok Users' Reactions to the video
@Shaun Makola Mankind said: "I like how everyone is minding their business. We're really becoming a progressive society."
@Sinazo commented: "If you were in my shoes" was a person."
@user8531316825908 said: "The little gal with red dress is the only human being alive in that town."
@OLGa reacted: "I love how people are minding their own business."
@Tasha commented: "My husband use to walk around with our daughter strapped on his back minus the heels of cos and people were staring at him."
Watch the video 
Also read 
• Congratulations to them Peggy Ovire and  Fredrick Leonard makes their first appearance as husband and wife.
• I missed my husband so much, see lovely moment as good wife surprises husband at work after a long time of seeing each other
• FIRST WIFE CRASHES HUSBAND'S SECRET WEDDING TO 2ND WIFE BY POURING "HOT RED OIL" ON NEW BRIDE