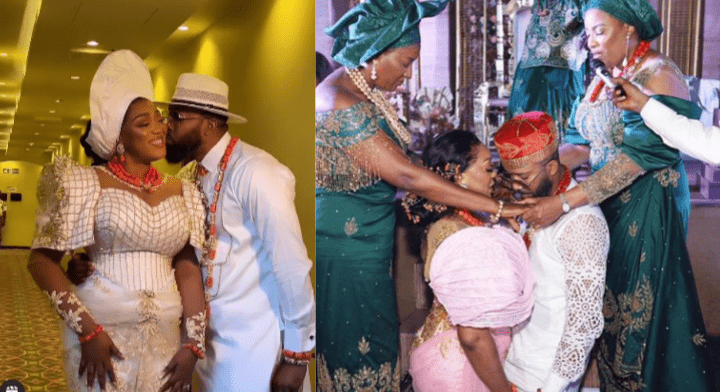 My Marriage will last forever, Frederick Leonard New Wife Peggy Ovire says after receiving Marital blessings from her elder sisters
Frederick Leonard and Peggy Ovire
Latest Nollywood bride Peggy Ovire-Leonard has taken to her Instagram handle to reveal an interesting fact about the Marriage life of her elder sisters and how their home has been standing strong for decades.
Peggy Ovire who just got married to Frederick Leonard, over the weekend, disclosed that two of her sisters have been married for 30 and 21 years respectively and they are still living in harmony with their husbands.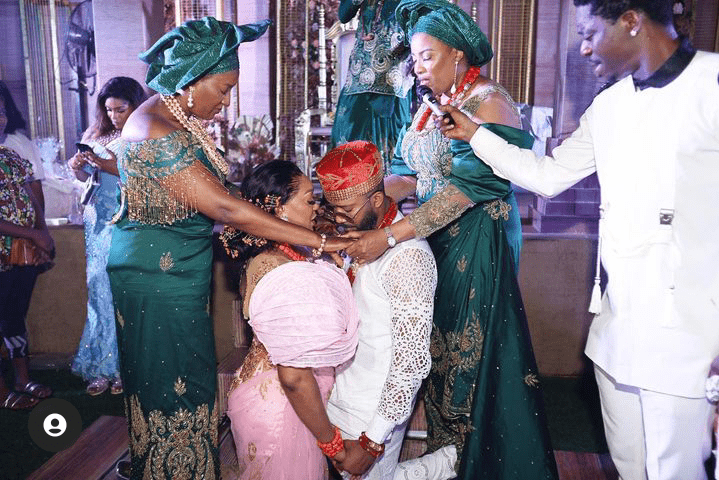 While making her point clear, Peggy Ovire disclosed that her sisters laid their hands on her and her husband during their traditional wedding and blessed their union, she stated that she is going to follow in their footsteps since she has received their Grace.
Sharing a photo of the beautiful moment, Peggy said she prays to follow in their footsteps and have a long-lasting marriage as well in her words she wrote;
"This right here was the Highlight of the Night for me,
I was Raised in a family who puts God First in Everything & Grew up seeing my 2 big sisters Love God Fervently.
The eldest ,(left ) have been Married for 30yrs & my other sister Gifty (right )Married for 21yrs & still Counting…….
I don't know how they do it but having them Cover us under Gods guidance, protection and Me following in their footsteps is a Blessing I'll Never forget
See post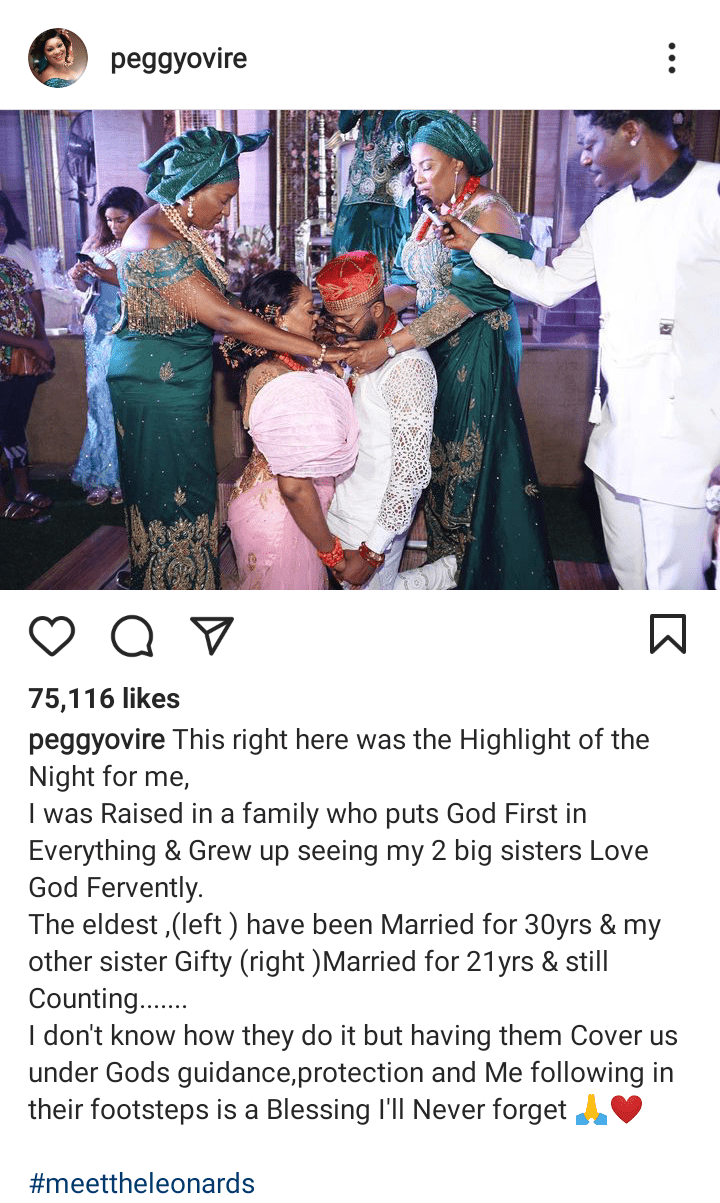 What do you have to say concerning this article share your opinion with us via the comments section.
Also, read 
• Congratulations to them Peggy Ovire & Fredrick Leonard makes their first appearance as husband and wife.
• See lovely moment as Nollywood Actor Frederick Leonard and Peggy Ovire scatter dance floor at their wedding reception
• I am one of the finest men in Africa, I've seen all kinds of women, but I can't live without you Nollywood Actor Frederick Leonard reveals his endless Love for Peggy Ovire