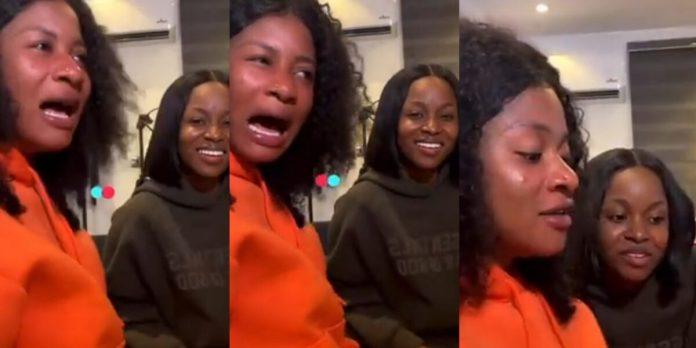 "Opening leg for money is nonsense" BBNaija's Phyna and Bella mock colleagues who sleep with men for money (Video)
Big Brother Naija Level Up stars Phyna and Bella have taken to their social media handle to mock their colleagues who sleep with men for money.
Since Nedu exposes that he once caught two Nigerian Influencers having a threesome with his friend, Big Brother Naija female stars have been trending, with many fingers pointing at them.
Speaking on the issue, Phyna and Bella took to their Instagram live session to mock their colleagues. In the live session, Phyna stated that when one sleeps to buy a house and another buys a house through hard work, both of them aren't in the same category.
Bella also added in her words she noted,
"When you work out for your money like legit work, every penny costs.
It is so sweet when you legitly make money
Anytime, I walk into my house. I am so proud because I did it, no one gave me the money. I did something legit.
As an adult, do you and I do mine.
Phyna chipped in, "Opening leg for money is nonsense. For example when someone buys you a house and I buy a House by myself, how are we mate? Na my money hard earned money".
Video below
Bella & Phyna are killing me😂😂🤣🤣😭🤣😂😂😂😂😂😂😂

Bloggers don find food this night o #BellaOkagbue #Phyna𓃰 pic.twitter.com/AYpJbxOCLB

— Chupiee💞🌹 (@chupieee251) January 26, 2023
Also, read 
• Thanks for making me proud, Bbnaija 2022 winner Phyna father Celebrate as she gift him a brand new Lexus SUV car in appriciation for his love
• See my carton tearers Phyna says in video as she moves into her new home.
• See as a Nigerian man surprises his girlfriend with a brand new iPhone 14 Pro hidden inside a bowl of garri as her birthday gifts