pregnant wife , 19, buys her lover a car worth N87M
reactions as pregnant wife , 19, buys her lover a car worth N87M
pregnant wife , 19, buys her lover a car worth N87M.
Knowing well that seeing a woman buy a car for her husband is not common, netizens have reacted to the trending news of a 19-year-old woman who gifted her husband a brand new car worth N87 million.
According to the pregnant woman, she views it as a way of compensating her husband for the work of baby sitting that lies ahead of him.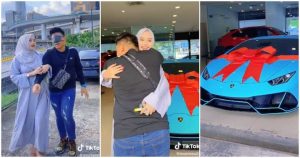 The woman made it known to people that it is their culture and tradition for the husband to take care of the new-born baby for some period of time.
Following the photos she shared through her Facebook handle, the husband was very surprised as they stirs emotion.
What's your reaction?
Read more…
Emotional clip shows Aguba eating at restaurant Owned by Deborah's mum at O.P.M