Reaction trails as Nigerian man scam his parents and use the money to buy iPhone for girlfriend
A Nigerian man has allegedly ripped off his friends and family members to subsequently used the proceeds to buy an iPhone XR for his girlfriend.
The people he sc@mmed, launched a search for him, and when they discovered what he used the money for they decided to forcefully take back the phone from his girlfriend.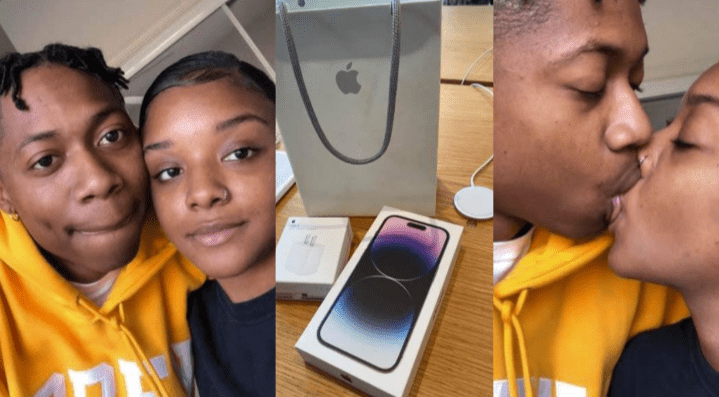 The video which was posted online shows the moment a group of young men confronted the said girl and retrieved the iPhone her man gifted her.
It was reported that they caught the guy and in the course of being assaulted, he confessed to have used a part of the money to buy a smartphone for his girlfriend.
While reporting this, the poster captioned the video;
So apparently, her boyfriend "r!pped" some people, then used part of the money to buy her an iPhone XR!! 👀
Then the people her boyfriend allegedly r!pped c*aught him, he confessed using part of the money to buy a phone for his babe, they had to 'tr@ck her down they collected the phone from her!! 🤦🏽‍♂️
Watch video 
Also, read 
• I prefer marrying a Yahoo boy because they can renew their wealth and buy me iPhone with other expensive gift a young lady reveals
• See as a Nigerian man surprises his girlfriend with a brand new iPhone 14 Pro hidden inside a bowl of garri as her birthday gifts
• See hilarious moment as a boy collected iPhone 13 Pro he bought for his girlfriend after finding out she cheated on him with a guy that drives 2007 Camry whereas he own 2012 Lexus