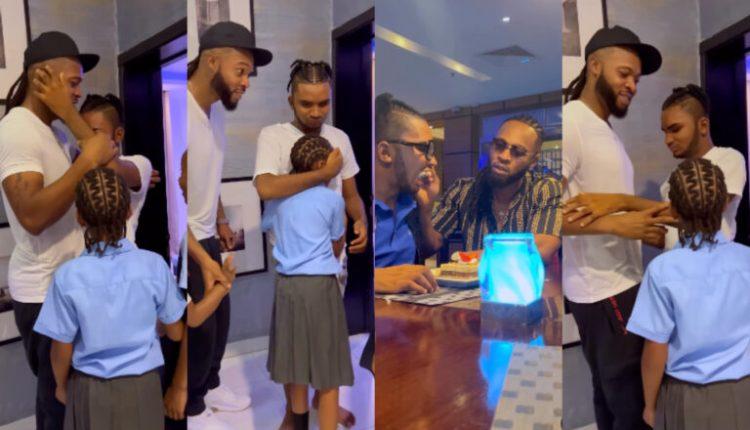 Singer Flavour melts hearts as he shares emotional video of himself and his daughters celebrating his visually impaired son on his birthday
Nigerian musician Flavour has melted a lot of hearts as he shared a video of his daughters visiting his adopted son who is visually impaired on his birthday.
Semah, who was born blind, is a Liberian who relied on the Christian Society of the Blind in Monrovia for assistance (CAB).
Flavour, on the other hand, discovered Semah in March 2017 and has been a vital part of his life since since he adopted him.
Flavour and his three girls decided to pay Semah a visit and give him a birthday treat today because it was his birthday.
Flavor documented his visit on his Instagram page and wrote:
"Happy Birthday Son , More Life and God's Blessings".
The video of Flavour holding and loving his adopted son has now gone viral, making many people cry.
Teeto olayeni wrote: Awwwwwwwwww this is so emotional to watch. It's the fact that he said he will care for the boy to the very end and he us doing just that.
Mortelorlar wrote: God please just open this boy's eyes to see how handsome he is! Such a cute boy. God bless Flavour and his kids .
One moses31 wrote: Big love..he dn grow beards now now.
Koko_barbs wrote: Things I love to see! humanity at its peak.