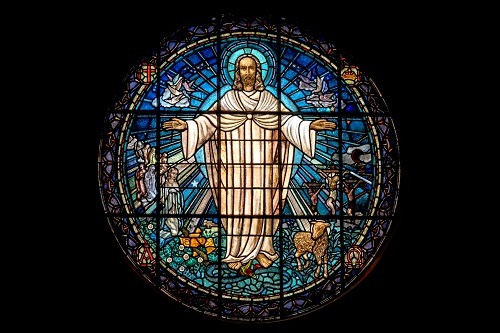 Omega and the god
FADE IN
Scene one:
EXT: BUSH PATH- DAY
A notorious native doctor by name OTUOKE 55, is seen walking through a bush path murmuring to himself in anger and calling the name of the gods of the land.
EXT: CHUKWUDI 's RESIDENT-DAY
At the back of the house, CHUKWUDI 26, is seen trying to Keep the environment in order. His sister AMARACHI 23 is also seen clearing the bush. Suddenly Otuoke matches in. He moves straight towards the direction of Chukwudi who instantly stops what he's doing as he sees him approaching
Chukwudi: (turns to him) Imieke, I greet you.
Otuoke: (looks at him angrily) Only a foolish fly follows a Corpse into the grave. Olaniyi,
I have come again to remind you of the promise your late father made before he died.
Chukwudi: (smiles gently) I know of the Promise, but you see, my father is no longer alive
We the children cannot and will never pay for what we know nothing of. he thought it                             was right for him to worship a lifeless god like that.
Otuoke: Don't you ever speak about
the greatest god of this land in such a dreadful manner.
(Amarachi rushes out of the bush to his brother)
Amarachi: (to Otuoke fearlessly) Imieke, what is it again? We have chosen not to worship the                 gods of my late father any longer.
Why do you keep insisting that we worship your god?
Imieke?
Otuoke: (looks up to the sky) your grandfather and your father served this god and it is mandatory
for the entire family to continue from where they Stopped.
Chukwudi: we cannot continue to fool ourselves by Worshiping a lifeless Image. My siblings  and I have chosen to worship the creator (he points to the sky) our master, the King of Kings, the mighty Man in battle, the undefeatable, unbeatable. I call him Omega.
Otuoke: (laughs at him) If I were you, I would Stop deceiving myself. For there is no god like
      Amadioha, the alusi god of

    Thunder and lightning.

    Ijiji na-enweghi onye

    ndumodu na-eso ozu ala

     n'inyi. (laughs and goes away)
Amarachi: Brother don't mind him.
We are not afraid of him neither are we afraid of that Amadioha
Or whatever it is called, we are Serving the living God, Omega.
Chukwudi: Let's go in dear. For the lord Will never disappoint us.
Light fade
Scene 2 (Omega)
EXT: CHUKWUDI's COMPOUND- DAY
Amarachi is seen eating with
Her sister CHISIMDIRI 18.
Amarachi: Chisim, guess who I met on my way coming back from the market yesterday.
Chisimdiri: hmm, hmm, hmm. Okay, brother Titus.
Amarachi: Onye bu Brother Titus?
(she hisses) I saw Isabella, my best Friend in secondary school.
Chisimdiri: Are you serious! Oh my God, how is She doing? (starts scratching her eyes) Ella my
Second mother.
Amarachi: (laughs) Second mother my Foot. Chisim will you Stop scratching your Eyes, do you          want  to blind Yourself.
Chisimdiri: (removes her hands) I can't see. Sister can you See me?
Amarachi: (laughs) You are very naughty. Stop that kind joke o.
(Chisimdiri stands up)
Chisimdiri: (she moves her hands backward and side to hold Amarachi)
Amarachi, I can't see again.
(she cries) Amarachi, where are you? What is happening?
Amarachi: (stands up) Chisimdiri, what do you Mean?
Chisimdiri: (falls to the ground as Amarachi rushes to her and helps her up)
I can't see again o.!
Amarachi: I can't hear what you are saying. Chisim can you hear me?
Chisimdiri: Yes. What is wrong with you?
Amarachi: Chisim, I can't hear You. Am dead o They sit on the ground and cry out to God.
Light fade.
Scene3:
EXT: CHUKWUDI's PREMISES- DAY
Chukwudi is seen walking around the compound with his two hands place at his back. He is contemplating about the recent calamity in his home:
Chukwudi: God please come and help us, please you are the Alpha and the Omega and there is none like you.
Otuoke appears behind him laughing
Otuoke: Your crazy god is sleeping. I have come to tell you that the great Amadioha, god of Thunder  and lightning, has given up on you. Amadioha is now ready, fully ready to strike you death   for not wanting to worship him.
A pastor by name JORDAN 32, walks in and Interrupts him)
Jordan: (to Otuoke) You lied.
Otuoke: Who do you think you are to stand before the servant of great Amadioha and to say that he        that sent me lied.
Jordan: (begins to speak in tongues as Chukwudi runs to his back) I am the servant of the most
high… The lord of lords. He has sent me to you to set his people free otherwise he will reveal to        you
That He is the only God of thunder and lightning.
Otuoke: (laughs at Jordan) you don't know what you are saying…
(He carries his staff up and call)
Amadioha! Amadioha!
Arise, arise (he points the rod at the pastor but he dodges)
Jordan: (carries his bible up) Abba father, my father my father If I be a man of God, father Arise.
Otuoke: You are simply gabbling. The god of great thunder arise!
Jordan: (uses his bible) The blood of Jesus! (He begins to speak in tongues)
Otuoke falls down to the ground and begins to crawl but the Pastor pours the anointing oil on him and Otuoke screams and gets converted
Jordan: Thank you Jesus. Thank you Lord.
He moves to Amarachi and Chisimdiri and places his hands on them and heals them.
Amarachi: Brother, I can hear now.
Chisimdiri: I can now see, (holds Amarachi) Sister I can see you.
Chukwudi: (looks up to the sky) God thank you, thank You so much.
They all aside from the Pastor go on their knees and wave their hands to The sky in appreciation.
The end.
Author
Glory Marco
SHOULD MARRY ME OR YOU LET ME GO 1 to end
The Rejected boy felix gallardo chapter 1
MY GIRLFRIEND scene 1 to the end