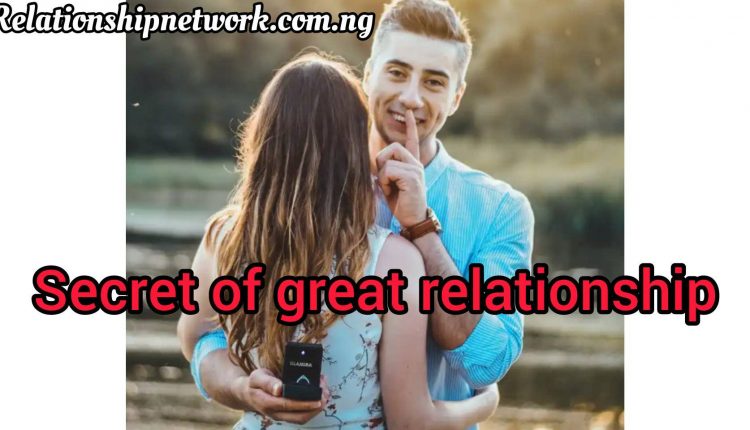 The secret of great relationships
the secret of great relationships
The moment you find the secret of great relationships you will see that everything about your relationship will turn around, and even a dead relationship will come back to life, patients, respect are obviously some keys to a happy and a successful relationship, but they are not always enough for a great and lasting relationship below are some simple but powerful secret you need to know for you to have a great and happy relationship
SEE ALSO: 12 Outstanding Surprising Signs that your spouse is cheating
The secret of great relationships
1. Love :
Over and over again, Love still remains one of the key element and secret for a great relationship, Once they are no love in a relationship the relationship is likely to be compared to a car without a full or a human without oxygen. To have a great relationship you must make sure you take all necessary steps to the love in your relationship intact, Sometimes it might be difficult to keep love intact especially when your spouse is no longer in love with you, That is why we advise that you should always go into a relationship with someone who shares the same thought, visions and goals like you, you can check our previous article on how to know someone really loves you
2. Truth :
Truth is an important element that helps to achieve a great relationship, It is very important for you to be truthful in your relationship a person who is a fund of lying will hardly have a great relationship because no one will love to be in a serious relationship with a liar, So if you are fund of lying you need to kill the habits of a lie in you, You might be asking how can I stop lying it already use to me. Yes, we understand that saying the truth might be difficult and sometimes hard, but you can actually end the habit of a lie in you by trying to say the truth always if you continue like this you will wake up one day and find out that you are free from the habit of lying.
3. Mutual intimacy :
Mutual intimacy is another crucial secret for a great relationship, for any relationship to be great both spouses must have a very warm mutual intimacy they should not just see themselves as spouse they should see themselves as best friends not only best friends but also tight brother and sister with such relationship each spouse will become very close to each other's and will be able to share thought, goals, and inspiration with each other.
4. Trust :
No relationship can become great if there is no trust in the relationship the union won't stand the storm and trials that come with the relationship. It is very important and crucial to build trust in every relationship before it can be great in building trust all spouses have very important roles to play some of the element that kills trust in a relationship are lies, poor communication, and cheating. In case your relationship is lacking trust below are some tips that will help you gain back the trust of your spouse,
i. Try your possible best never to lie to your spouse again :
a lie is one of the major element that k*lls trust in a relationship once your spouse notice that you have to stop your lying habit by bit, your spouse will begin to gain trust once more.
ii. Never cheat on your spouse :
another thing that destroys and prevents a relationship from being great is cheating no one wants a person who is a fund of cheating so if you want to gain the trust of your spouse and make your relationship great you should not cheat ok him/her
5. Communication :
In growing a great relationship, communication is one thing that must always be put in check. Because in the process of communication each spouse gets a chance to express their thoughts and emotions. Whether you are in a distance or non-distance relationship proper communication should be kept in check for those in a distance relationship should always try to call each other at least twice a day and in leisure time should cheat there self's on any social media platforms and do some video call together with this they will always feel close to each other dispute the distance between them
6. Shared Interests and Values :
One of the secret of great relationships is interests and values. The only thing that makes a man or woman stay in a relationship for long is because of the value they are benefiting from the relationship such value might include ideas and tips to establish or grow a business, financial support, or moral advice when needed no one would like to cut off From a relationship that gives them enough value. A relationship that s*x is the only value it shares is likely to crash in no distant time
Conclusion,
just as no great and beautiful house was built in a day in the same proportion no great and wonderful relationship can be built in a day they must be times of trials and these trialing times are what makes our relationship great if we can overcome it. Lastly, if you want your relationship to be great never be self-centered before performing an action and put the feelings of your spouse at heart.
A relationship is usually enjoyed when there is an understanding between two people who are in love. and that is to say that even love can not prove the future of any relationship. because any relationship without communication and understanding always result in failure so to avoid that and to avoid divorce in the future, it is better to be with someone who values, respect, care, and most importantly, understands you.
To chat with us offline on the site, you can follow us on Our Facebook page @ Relationship Network