Video shows masters degree owner rejected 500 times, hawks eggs in the street.
A man identified as Dennis has gone through a lot as he narrates his touching story.
The Kenyan man who obtained his first degree in 2013 and later bagged his masters in 2018 has taken to YouTube to lament on how live has been for him over the years.
According to the video, the man has been turned down 500 times while looking for job.
To survive, the Kenyan citizen mustered up courage to look for something doing as he now sells boiled egg and tomatoe source on the street.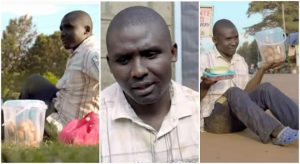 Reacting to the touching story of the Kenyan man who studied Economics in the university, netizens have shown concern and affection as they encouraged him reassured him to be strong , that he's going to make it one day.
Whats your reaction?
Read more..
"I have beautiful wives" – Ned Nwoko breaks his silence over rumors that he obtained marriage list from Emmanuella's parents