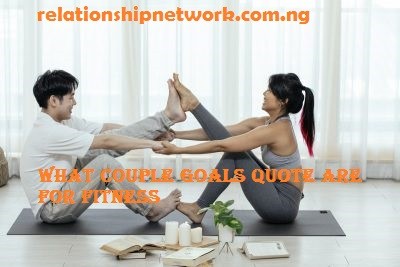 What Couple Goals Quote Are For Fitness
Couples Goals Quote For Fitness
Getting to the gym and being consistent with your fitness exercise isn't easy we know! But staying focused and working endlessly toward your health and fitness goals is very essential. We are very sure that on some days you will become stressed, tired, and feel like giving up and the only thing that can keep you going on those days is some extra push and motivation. That is why we have written this article to share with you some motivational couple goal quotes for fitness.
These motivating couple goal quotes for fitness can help you and your partner whenever you feel like giving up on your fitness exercise.
What is a Couples fitness quote? :
Couples' fitness quotes are quotes that motivate you to continue your workout exercise whenever you feel like giving up.
How do you motivate a couple to work out?
Below are some ways you can motivate your couple (partner) to workout
1. Establish a workout schedule
If your partner doesn't like going for a workout then should try to fix a scheduled day that both of you will go out together may be the reason he or she hasn't been going to work out is because of their busy schedules if you can establish work out a schedule from your free time maybe he or she will decide to go on a workout with you
2. Encourage some healthy competition :
Just like achieving small goals make someone happy and give them the ego to keep moving you should introduce the act of setting some small healthy workout competition with your self this will help them to want to get serious with workout so that they can win the competition.
3. Share your fitness successes
This is one of the killer traps to motivate your partner to start a workout once your partner sees some positive changes in your body as a result of your workout exercise he or she will also love to join the train.
Is it good for couples to work out together?
If you are still asking if it is good for couples to work out together the answer is yes cause working out as a couple helps to strengthen your relationship and friendship bonds. The following are some reasons why it is important for couples to work out together
1. It brings happiness to your relationship :
The fun moment and the happy times you both caught during your workout exercise tends to make your relationship rosy and fill the atmosphere with love and happiness.
2. It helps increase your emotional bond :
Just like a mother and her child who is always together their emotional bond tends to be stronger. If you and your partner start working out together that means you are likely to spend more time with each other with that your emotional bond will become more connected and stronger
3. It spices up your relationship vibes :
Doing several exercises together and going for a workout together will help spice your relationship up so that no one will be thinking of leaving each other
Top 10 Couple Goals Quote For Fitness
These are some fitness quotes to motivate you and your partner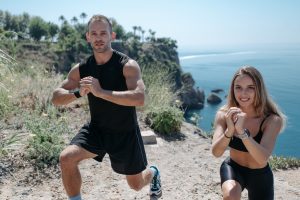 1. Couples who work out together grow stronger together
2. Fitness is like a relationship you can't cheat on it and expected it to work out
3. It is not about how often you say it but how often you practice it
4. All success process takes place outside the comfort zone
5. Put all excuses aside and remember this "you are capable"
6. Bodybuilding is just like any other sport. To be successful, you must dedicate yourself 100% to your training, diet, and mental approach
7. Our bodies are our gardens – our wills are our gardeners
8. Exercise is king. Nutrition is queen. Put them together and you've got a kingdom
9. A champion is someone who gets up when they can't
10. A hero is an ordinary individual who finds the strength to persevere and endure in spite of overwhelming obstacles."
Read Also: Freaky Couple Relationship Goals Quotes And memes
Conclusion,
Never become tired of your workout exercise always give your best to it and each time you become demotivated always visit our blog and read some articles that will motivate you and keep you back on the track just like what our Quote 2 says "Fitness is like a relationship you can't cheat on it and expected it to work out" in conclusion just try your best to keep going.