A little Nigerian girl generates light using cup of water, salt in video.
The little girl who showcased her talent has stirred massive reactions as she goes viral.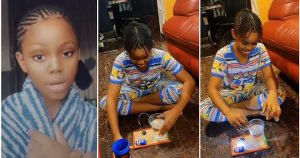 According to the TikTok video shared by @chychido2, the little girl was captured connecting wires while sitting in their living room.
She used a bulb, wire with so many other things after which the light began to shine.
This amazed the mother as the little girl did this in her presence.
Reacting to the video, many have commended the little girl as they advised her parents to support her in what she wants to be in the future.
What's your reaction!!
Read more..
Best Couple Goal Quotes In English