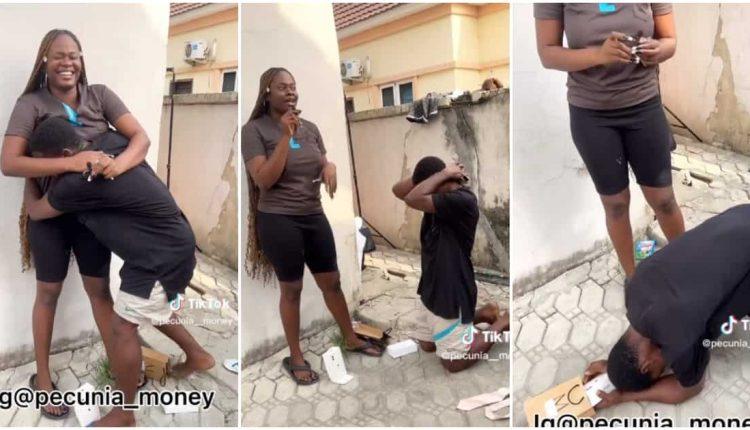 Weeks after He Gave Her His Salary, Nigerian Lady Surprises Security Man with Dollars, iPhone in Cute video
A young Nigeria man is finally living his dreams as Weeks after He Gave a Nigerian lady His Salary, the Nigerian Lady Surprises him with Dollars, iPhone in Cute video.
This act of kindness was in remembrance to a security man who showed her kindness in December 2022 and treated him to a lovely surprise.
Talking of a lovely surprise, the Nigerian lady blessed the security man who helped her in time pass with dollars which amounted to triple his salary and an iPhone.
This very gift package came in the form of an iPhone 11 and $200 (over N92,000) for his act of kindness shown to her.
Below are few of the Social media reactions
user7713678304769 said:
"He is a good looking guy just make him you're husband already cos it seems you guys understand each other."
lorettagregory220 said:
"Omo u guys are just talking about but ur app is not working…u don't need the rest anyway she decided to helo him."
Haleeru Moosah said:
"I immediately updated my status with this beautiful quote " don't work for money, work for value."
janebarbie101 said:
"People are talking about the app but no be only one bank app dey nah the guy nah good person."
Abdullah said:
"Must u tell world that you are doing good to someone. this's not right. "I wish it's me I'll have not collect it."
Kimberly said:
"Wow!!!! I heard one thing from him today, he said don't work for money rather work for value."
"It's a Small World": Nigerian Man Becomes His Nursery School Teacher's Lecturer, Lovely Photos Emerge
"I Have Moved On": Man Abandons Wife, 2 Kids and Properties Worth Millions to Start Life Afresh