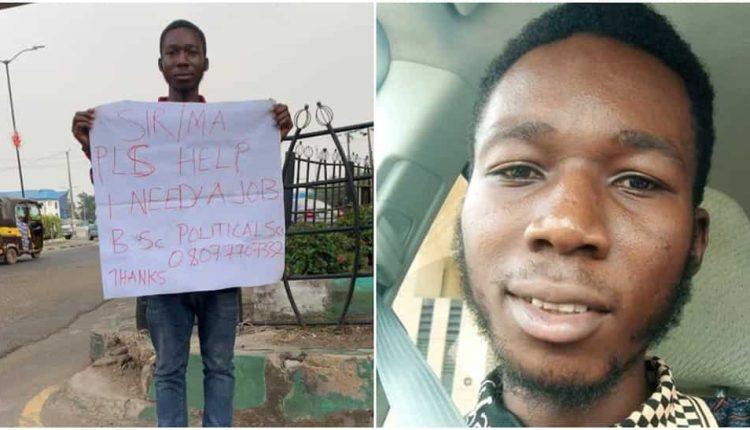 "Please Help Me": Nigerian Man Who is a Degree Holder Stands on Street to Look for Job, His Photo Goes Viral
"Please Help Me" were the outcry of a Nigerian Man Who also happens to be a Degree Holder as he Stands on Street to Look for Job, His Photo Goes Viral
The Nigerian man who claimed he is a graduate of political science is still on the lookout for a job, and he decided to take to the streets to sell himself.
Originally known by the name Cyprian Orvande Kerker, the man posted a photo showing when he held out a white cardboard sheet with his number and
qualifications.
In his tweet which has now gone viral, the man could be clearly seen appealing to people to help him get a job noting that he is a graduate of political science.
According to him, "Immediately after my graduation, I got a job with MTN as an adhoc staff. My role was to updating and upgrading of sim cards. It was a contract job which lasted for 45 days."
"Immediately after my NYSC in February 2022, I relocated to Ibadan and worked as a sales representative. I later moved to Lagos where I'm currently based. I'm from Benue state I was born 22 october 1996. I'm self motivated, hardworking and flexible" he stated.
Below are the Reactions from Twitter users
@Smart2471 said:
"Jah bless brother! We are in to it together and I am also a graduate too."
@Hallabernard14 reacted:
"God will grant all your heart desires bro. Stay strong and don't give up."
"From Wheelbarrow to Hyundai": Young Man Celebrates as Female Lecturer Gives Him Her Car, Shares Cute Photos
"She Don Lose Focus": Pretty Nigerian Lady Sees Handsome Man at Her Polling Unit, Falls in Love With Him