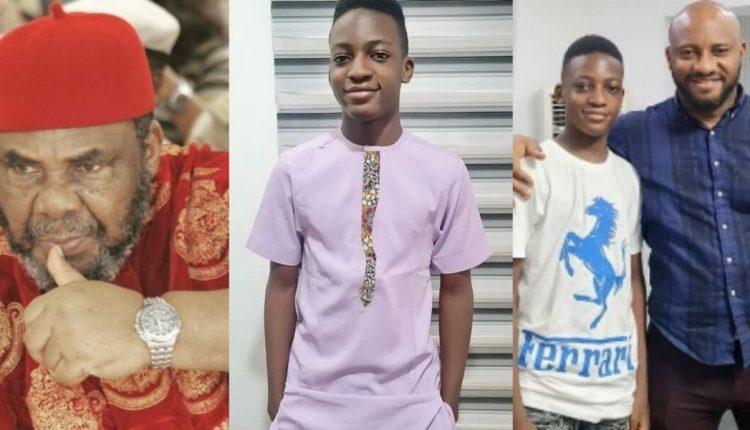 Veteran Actor, Pete Edochie speaks on grandson's death, makes shocking revelation about him
Veteran actor, Pete Edochie has broken silence for the first time since the death of his grandson, Kambilichukwu
Relationship network reported yesterday that the sixteen year old died after developing a seizure while playing football in school with his classmates.
May's sister had reported that Kambilichukwu was rushed to a Hospital in Lagos ( mother and child) where he was confirmed dead.
Pete Edochie has however confirmed the sad news, noting that Yul called him on phone to inform him of what had just happened.
He revealed that the whole family immediately went into prayer for Kambilichukwu the moment yul broke the news to him.
However the boy died few hours later.
Talking about the deceased, Pete Edochie revealed how bright and intelligent the young boy was.
He stated that he always excel in everything he did.
According to him, Kambilichukwu was a very quiet, smart and talented child, who you can't easily ride on.
He described him as a kind hearted boy who no matter what doesn't get angry.
Pete stated that the deceased was an unusual person who always accomplish everything he sets his hands on.
He recounts how he has always told the boy's father ,Yul that from experience,he has noticed that people with those unusual qualities like Kambili, who excel in everything they do, don't live long on earth.
In his words:
"Kambilinachukwu is a very quiet, brilliant and talented child. He's not somebody you can ride easily. He doesn't get angry no matter the situation.

He may change his composure, but he was definitely a very unusual person in so many respects. He was so accomplished. I always tell my son that I don't like people excelling like this in any thing they are involved in. Experience has taught me that such people don't last long".
See related news : Actor Yul Edochie reportedly loses his first son, Kambilichukwu