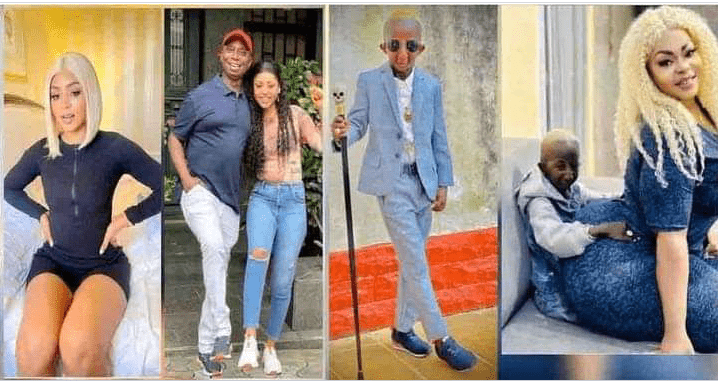 Check out these 4 Nigerian Celebs Who Have Been Questioned Over Their Choice Of Partner And How They Are Doing Currently
List of Celebrities who draws fans attention as a result of the partner the got married to
Some celebrities have been bombarded with several questions after marrying the person of their choice, some fans believe that should never have married such a person due to one or more reasons
below are the names of some Celebrities who have been questioned about their choice of marriage.
Ned Nwoko and Regina Daniels
Many people questioned Regina Daniels and Ned Nwoko's love because of their huge age differences, many fans believe that Regina got married to Ned Nwoko cause of his money, but Regina seems not to care about what people are saying about her Ned Nwoko and Regina Daniels' relationship is growing stronger by the day, and they now have a son, Munir Nwoko.
Eudoxie Yao and Grand P
Grand P, is a Guinean singer, and he is in a serious relationship with plus-size model Eudoxie Yao so many people have questioned Eudoxie Yao why she went further in dating a man with small stature. Eudoxie Yao and grand P are presently engaged and enjoying their love life; they will soon be married. they both do not care what others are saying concerning them
Mc Fish and Anita Joseph
Mc Fish and his wife Anita Joseph have also tended on social media. Because of their age differences, people questioned Anita Joseph's choice of partner.
Despite everything, Anita and Mc Fish are getting stronger by the day and are always.
---
Trending List Of Celebrities Who Married Women Bigger Than Them
---
Bobby Maris and Uche Ogbodo
There relationship between Uche Ogbodo and her partner Bobby Maris has also been called into question due to their age differences.
Uche Ogbodo once openly told them that their love was all that mattered. Uche and Bobby are still together, and they have a female child
Also Read List Of Davido Baby Mama's
List Of Top Cross Dressers In Nigeria