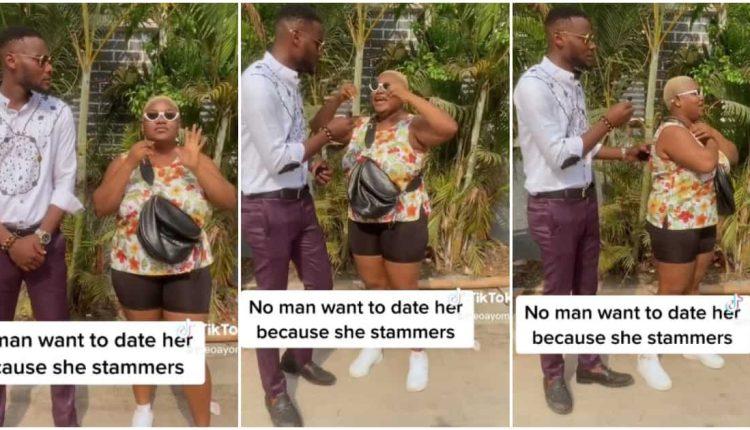 "No Man Wants to Date Me": Beautiful Nigerian Lady Who Stammers Says in Video, Bursts into Tears
"No Man Wants to Date Me" were the outcry of a Beautiful Nigerian Lady Who happens to be a Stammer as well as she Bursts into Tears in video.
Narrating her ordeal, the beautiful Nigerian lady cried out in her recent video over her difficulty in getting a boyfriend because she is a stammerer.
Going further, she noted that men just lose interest after their first date with her even though she is open to relationships with a man that is not a stammerer like her.
In her words "Men run away from me because of the way I talk, so it is a bit of a challenge to me."
Below are few of the Social media reactions
ogerenyasamson said:
"So sorry babe and you're beautiful if is not because i never reach to marry."
Joshuamoseskargbo said:
"Let her take it easy is not her fault that is the way God create her."
kingsleyanugwa550 said:
"My dear theirs a solution from that, that doesn't disqualifies such a beautiful lady from being a man's crush, in fact, i love her and can help out."
Tracy said:
"Baby girl am so sorry for ur condition but l have a brother if u will like him."
user9767425305312 said:
"Tears flowing from my eyes she should be saying whatever she wants to say in her mind before saying it out, that will help her reduce stammering."
Ochias said:
"May honest man dat will love you locate u in Jesus name,japa men will not come close to you, a lot of japa men say Dey love her I can see dem in comments."
"25 Years Wasted": Nigerian Lady Heartbroken as Man Secretly Marries Someone Else after Promising Her Marriage
"I Always Sent Her Money Every 2 Days": Nigerian Man Regrets His Action After Lady Broke His Heart