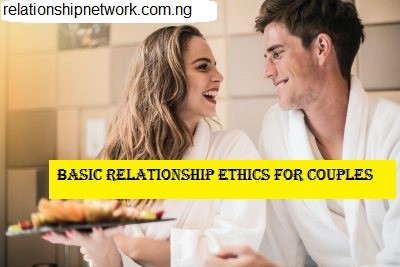 BASIC RELATIONSHIP ETHICS FOR COUPLES
Just exactly as it is required of an architect to follow some specific guidelines to draw out the plan of how the structure of a building should look, exactly the same way it is required of couples or lovers in a relationship to follow some particular precepts towards strengthening the pillars of their relationship. which is why we would be discussing the basics relationship ethics for a stronger and healthy relationship.
A relationship just doesn't become a bed of roses overnight, likewise the same way your fantasy won't be becoming a reality anytime soon should you choose to put little or no effort at all into such a relationship.
Setting up a few relationship principles might not seem to be quite rewarding in the short run, but in the long run, it would turn out to be a decision you would live to never regret. And to achieve this feat, all that's just required of the couple is a little bit of commitment.
BASIC RELATIONSHIP ETHICS/RULES EVERY COUPLE SHOULD FOLLOW
Well for all those already entangled in a relationship or those planning to sometime in the nearest future, in no particular order here are the basic relationship ethics to follow after to enjoy the benefits of a stronger and healthy relationship.
1. BE GENUINE
Couples generally tend to pattern their lifestyle and personality to suit the taste of the partner they happen to be in a relationship with which shouldn't be so.
The uniqueness of character matters a lot in a relationship and you shouldn't be obliged to impress anyone you find yourself in a relationship with.
It is a safer bet for you in a relationship to be real with your partner so that they can always learn to admire and fall in love with such personality of yours rather than imposing something fake on them which might come back to haunt you in the long run.
2. RESPECT SHOULD BE MADE RECIPROCAL
According to the same respect for your partner just exactly the way you desire is key and is considered the very foundation of every strong relationship.
Partners in a relationship are obliged to respect and have respect for one another in terms of characters, calling one another names, invading each other privacy when it comes to calls and texts as well as every other thing one way or the other correlated.
3. BEING HONEST IS PIVOTAL
If your sincere intention for your partner is to build a stronger and healthy relationship on trust, then no atom of the traits of honesty should be found missing in your union or companion.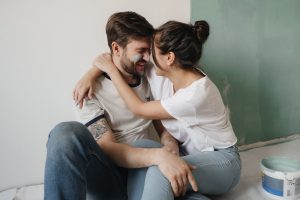 Make it your daily routine of sharing your thoughts and voicing your opinions on matters that might be a potential threat to stopping you from having a stronger and healthy relationship. cause by so doing you both could earn each other's trust in that relationship.
4. SEX SHOULDN'T BE A NECESSITY, BUT RATHER COMPULSORY
Truth be told, you weren't both joined in holy matrimony to run a priesthood, so there's little or no reason at all for you to choose to abstain from sex in your companionship without any genuine reason.
Undoubtedly, bringing intimacy into your relationship or union helps spice things up in that very relationship as it strengthens that bond between couples when they get to make out making it the perfect romance story.
S*x for no reason shouldn't be somewhere you have to get a planned schedule for, rather allow it to come naturally so as to get to enjoy such an intimate moment.
SEE ALSO: 11 Tools that can spice up intimacy in your relationship
5. DO NOT UNDERESTIMATE THE POWER OF COMMUNICATION
Building a solid connection with your life partner shouldn't be something that seldomly happens, rather it is required of you to make it your daily routine and the only means of getting that achieved is through communication.
When you develop the habit of communicating with your partner on a daily basis, it gives him/her that sense of belief of you being his/her number one priority as you are always checking on her.
The key to this is understanding each other better.
6. BE FULL OF APPRECIATION AND APPRAISAL ALWAYS
We human beings generally tend to feel the need to be shown gratitude for every good deed of ours; certainly, your partner actually happens to be human as well and likewise does require such a gesture of yours to be shown towards them as well.
Be full of appreciation and appraisal to every good deed of your partner done regardless of how small and little You might consider it to be, cause when you get to acknowledge them for the works done or feat achieved in time past, they would be inspired to do more in the future.
It would always be a win-win situation for you to show appreciation cause if you chose to do otherwise, your partner might just lack the needed motivation to render such help or services.
7. CRITICIZE WITH CARE AND AFFECTION
Honestly, you would be planting deceit within yourself if you still have that sick belief that disagreements aren't bound to happen or surface.
But in spite of this, that shouldn't provide you with the opportunity to shout and bark at your partner at every slight instance. But rather ensure in the aftermath of your correction, love, and affection should follow suit.
SEE ALSO: Stop Trying To Change Your Partner
Cause the truth still remains if your partner doesn't get to know the reasons behind your criticism, you might end up doing her a whole lot of harm than good causing her emotional trauma in the process.
CONCLUSION
Those aforementioned are the very basics for every relationship to stand firm wither the storm that might try to blow it off and prevent it from having a happy ending
Even with that, there are still some other principles required of you to apply for that support and work alongside the tips we earlier gave.
They are;
~Taking Time to celebrate one another on each other's respective special days such as occasions such as Birthday ceremonies, Anniversaries, and every form of celebration one can think of.
~Creating a space in your heart for forgiving the trespasses of your partner as well as learning the act of forgetting such trespasses as well in the aftermath of such forgiveness.
If you are a woman, you might want to see these 10 Important Things a man wants in a relationship
~Since there's only one person who could be perfect which is the one and only true God, you shouldn't be expecting any form of perfection from your partner but rather adapting to any such imperfections from him or her.
~Do not develop the habit of making a promise and not having them fulfilled as it might make your partner less reliable to you in the relationship.
With regards to this, here are some other don'ts that shouldn't come anywhere closer to your relationship with your partner
~Placing your present relationship in comparison with that of your past relationships, do not bring the experience of your past relationships into the equations at all.
~Never work towards perfectness rather work towards adapting to any form of imperfections, cause you can never be perfect
~Settle any difference between you and your partners before bidding her with a good night kiss, don't go to bed with displeasure in mind.
Follow these guidelines and be all smiles all the days of your relationship or companionship with your partner.
You can also follow us on LinkedIn