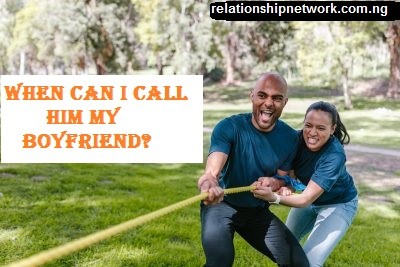 When Can I call Him My Boyfriend
Generally, everyone would one way or the other maintain close tabs with someone of the opposite sex, one who they consider being more than a friend to them, someone very special and unique to them, and this question might just pop up in that head of theirs "can I call him my boyfriend?"
Subsequently, once you keep on having companionship with such a fellow, emotions might begin to roll high and the feeling of love might set in the reason why they begin calling one another lovely tags such as "babe" and "honey," and every other name correlated.
While every other thing love related might be coming into place, one might begin to ponder on the idea of whether or not to embark or take up the Adventure of venturing into a relationship.
WHEN CAN I CALL HIM MY BOYFRIEND
When the following signs begin to emerge and surface in your companionship with that very personality, then it is high time you start considering that every guy has crystal clear intentions of him being your boyfriend.
1. HE IS CONSTANTLY BOOKING A DATE
When the guy in question is making his weekly routine of booking dates so as to afford himself the opportunity of going on an outing with you, then it is obvious he intends to be in a relationship with you, and if you desire, desire it so on your own part, then you should be good to go.
As a guy who is always willing to create time so as to hang out with you clearly wants something more than being friends.
2. HE STOPS FLIRTING
Another obvious sign to be on the lookout for is the fact that he stops FLIRTING and cruising around with other ladies in the neighborhood. Literally, the moment such attitudes as this of the guy start to emerge, then it is obvious he prioritizes you to the core and wants to be with you alone.
Girls naturally tend to feel insecure as their emotions revolve around that, so when a guy who intends to be your boyfriend begins to instill that feeling of security in you, then undoubtedly he is the right person, at the right place and at the right time fit enough to be your boyfriend.
3. HIS FAMILY AND CLOSE FRIENDS RECOGNIZE YOU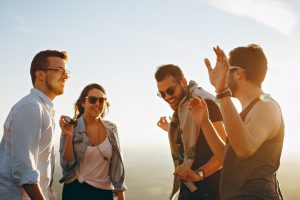 Obviously, it is quite rare and unreal seeing a guy who naturally is supposed to uphold some level of ego going about discussing you with his family and close friends, those who basically maintain a close time together with him, informing them all that you both intends to be together.
A guy who is not afraid or scared of flaunting you around with his family and friends and isn't shy of that fact is a green light you as a lady should follow through, and if truly you genuinely feel something for him then you're good to go.
4. YOU BOTH BLENDS WELL WITH ONE ANOTHER
If the guy in question that intends to be your boyfriend has an attitude, character or personality that compliments yours and you both have made it your daily routine of doing literally most of everything together, then that might just be an even clearer sign of something huge still to come.
You Both hang out together in bars and restaurants in the neighborhood, you are always together in the library studying or carrying out project work, and when you both are together at home, you are always lending a helping hand to one another, then it is just a matter of time before you both take up the adventure of being in a relationship.
SEE ALSO: 10 Sure signs that he loves you without saying it
5. HE SUPPORTS YOU CAREER-WISE
In so much as you both would love to engage in everything fun and thrill related, matters of your professional life just shouldn't be overlooked at all as it is much more of a big deal though the present society we live in might not paint the picture to be so.
You can check this out 9 signs he wants you in his future that will make you love him even more
Truth be told, when you see a guy that gives his utmost attention to your professional and career life much more than any other thing you both might be sharing together, then it is obvious that every guy in question has got a long term goal and Visio for, that is him wanting something more than just being friends, perhaps him wanting to be your boyfriend.
6. YOU BOTH SEE'S YOURSELF AS COUPLES
The moment you both start exhibiting the lifestyle of Partners who are married already, even though you both are still an adolescent or teenagers living under the care and control of your respective parents.
Then it is obvious he wants to build and maintain stronger chemistry with you judging by the fact that he doesn't just want to be a mere friend of yours but rather sees a future in you of which he hopes and desires to make you his life partner.
7. HE IS NO LONGER OBSESSED WITH HIS EX
Out of every factor and trait Present which we have aforementioned earlier, this is key and should be considered pivotal for you as a lady before accepting the proposal of a guy to embark on the adventure of being in a relationship with him which literally means considering making him your boyfriend.
Obviously, a guy who isn't obsessed with being with his Ex or doesn't have any dealings to do with his Ex any longer has a higher chance of being faithful and trustworthy should be a relationship with him ever happens.
CONCLUSION
In conclusion, every single thing had aforementioned doesn't really matter or count at all if the lady in question never really had an intention of being with you in the very instance as her opinion about you matters a lot. If your opinion of the guy is exactly the same as that of every random guy out there, then you shouldn't suffer the stress of going through the phase of having deep thoughts about this whole issue.
I am sure it will be important for you to read this before you make your intention known to avoid disappointment. 9 warning signs she doesn't like you
But if the reverse is the case, that is the very guy in question is a matter of interest to you, then consider everything outlined earlier might just do you a whole lot of good than harm in making your preferred pick of who your choice of boyfriend should be.
You can follow our relationship page on Facebook