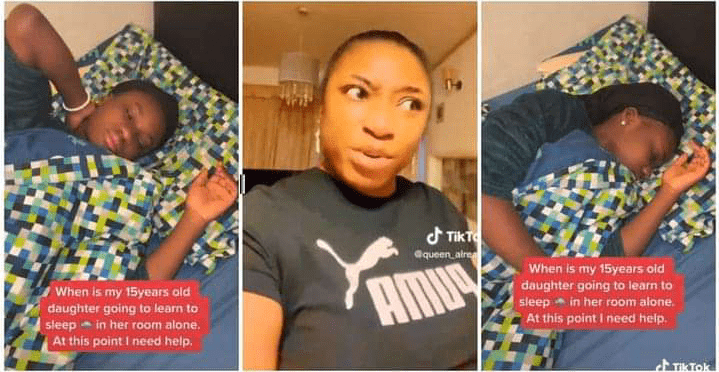 I need help, Mum cries out after catching her 15 year's old daughter sleeping in son's room
A young mum had taken to her social media handle to sought advice as she lament bitterly About her daughter's inability to sleep alone at night.
The young mum stated that she came to the realisation that help is needed after catching her daughter, who is 15 years old, sleeping in her brother's room.
The futher shared one of those moments on she cought her. In the TikTok clip, she walked into the room and saw the sleeping girl covered up. On sharing the video, she wore on top of the video
"When is my 15 year old daughter going to learn to sleep in her room alone. At this point I need help,"
After frantically waking the girl up, the woman enquired from her how she managed to end up in her brother's room.
 "I thought I woke you up in the middle of the night and I saw you go into your room to sleep. What are you still doing in Jaden's room?" she said.
While the girl was returning to her room, she mumbling, the woman wondered when all these would come to an end.
 "What is all this nonsense? Stop coming to your bother's room to sleep. Overcome this fear," she said.
Watch Video 
See social media users reaction
 Dora said: "That is not how to deal with a situation like this by disturbing her sleep and shouting talk to her and ask her the problem it's not about age."
Richard said: "You need to seat with her & ask her why she is avoiding her to sleep in her room. Then check the kind of movies she watches or the news she listens to."
Omoperosola Maltida said: "Just leave her she will I keep sleeping in my grandma's room not until I realize I needs my own privacy just leave her with time she will."
user3383552925908 said: "I stated demanding for my privacy at 14 the way I enjoy sleeping alone at time I fear I got married it going to create problems."
Ikcon mama said: "Not everyone can sleep alone,I remember when my younger sister travelled n left me alone it wasn't easy for me ooo."
Also read
• Na this kind bond I want mother dances happily with daughter-in-law in church.
• No wonder you can't keep your marriage Netizens lambasted on Korra Obidi for eating fufu and soup with straw
• She has no respect for her marriage Netizens lambasted on Frederick Leonard New Wife Peggy Ovire as she was spotted without her wedding ring