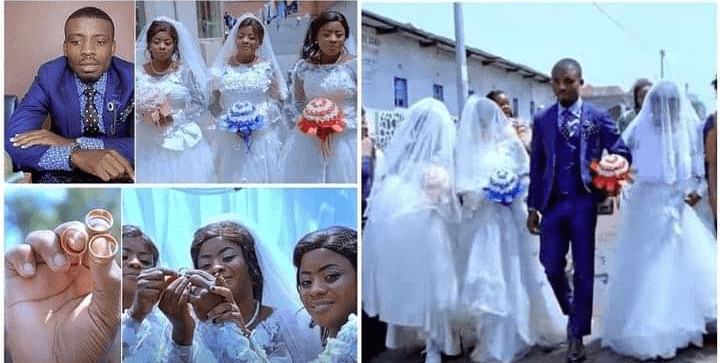 Man gets married to Triplet, marries all 3 Sisters because they can't stay apart from each other (Video)
Marriage
A Congolese man, identified as Luwizo, has been trending on social media after leading three sisters to the altar on the same day. According to People, they stated that the triplets are usually inseparable not until marriage.
According to Afrimax English, they stated that the 32-year-old Groom, lives in Karen, in South Kivu, in the Democratic Republic of Congo, and married the three identical triplets, Natalie, Nadege, and Natasha, in his country Congo.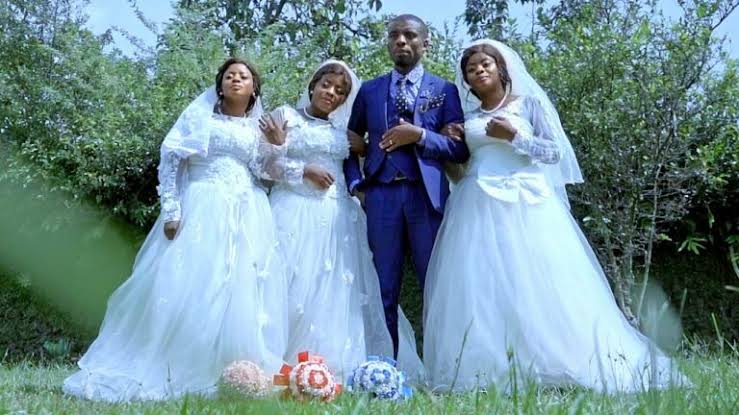 According to Mr Luwizo's, he stated that he first met one of the sisters, Natalie, on social media, and he fell in love with her after they chatted for a while. In his words he stated;
He said: "I fell in love with a girl called Natalie, we met on social media, she was wonderful, I couldn't resist her beauty, and after some time we decided to meet, it wasn't that easy because I was in a working trip."
He also added that When he eventually met Natalie, he said he didn't know what lay ahead; she introduced him to her sisters, Nadege and Natasha, and just like that, they all fell in love with him.
He was confused that he first met Nadege, whom he initially thought was Natalie. The triplet said whenever Mr Luwizo came visiting, whoever was around would receive him. So that was how the three sisters met and fell head over heels in love with the same man
Watch Video 
What do you have to say concerning this article share your opinion with us via the comments section.
Also read 
• I have gotten to a stage where I feel like having a family BBNaija Kayvee speaks on marriage.
• Your marriage is bless Netizens react as Frederick Leonard wins new Award few days after his wedding
• She has no respect for her marriage Netizens lambasted on Frederick Leonard New Wife Peggy Ovire as she was spotted without her wedding ring